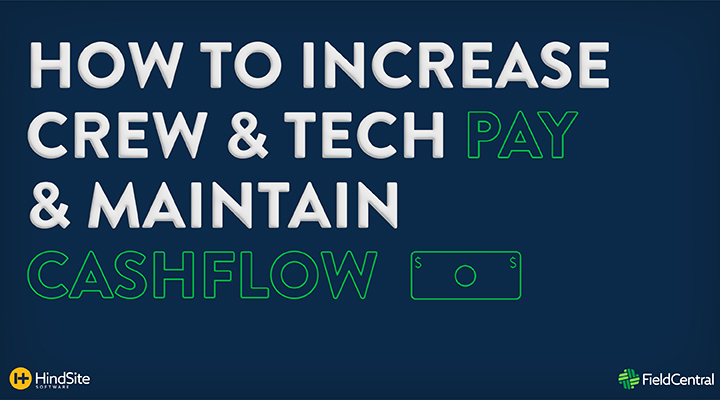 As the talent war wages on (yes, sorry, pun totally intended), and inflation remains very real, your current and potential employees will expect increased wages. If you're reading this, it's almost guaranteed that you've already given raises, and are stressing about what to do next.
How do you incentivize your technicians without breaking the bank? Here's what our contractors tell us.
1. Watch the Margins.
Whether it's paying for productive time only, using "piece rates," or evaluating total revenue per hour, make sure that you balance pay and bonus programs with your margin. Make them dependent on each other. If the company isn't making money, then you can't afford to pay extra.
To make this fair for your crew, spend some time each year teaching them about company margin, and how they can improve it. Extra long lunches, getting out of the shop on time each morning, recommending value-add upgrades to clients, and reducing call-backs all impact your bottom line. If the company succeeds, you share that with your techs.
2. Mix Productivity and Sales
You don't need everyone to be a salesperson. Many techs will be uncomfortable with that, which is why your incentive should blend the two. Productive time is critical because it's the only way you get paid. Measure it, subtract call-backs or poor-quality work, and incentivize high-quality work done under a standard time threshold.
If you don't have those standards set, start planning for it! And then add on simple commissions (10-15%) for upgrades, especially those that will provide recurring revenue for you. Smart controllers (for which provide ongoing monetized service), mid-season checks, yard signs that lead to neighbor's sales, or new services you offer (fert, mosquito control, etc.). You pick the services that will drive the recurring revenue and incentivize people for the first sale, or the value of the first season.
3. Incentivize Behaviors that Matter.
Productivity, of course. Sales, where it makes sense. Total Revenue, absolutely. But what else makes a difference for you, and ultimately, for your customers? Do you measure customer satisfaction? Do you ask for (and track) Google Reviews? What about clean uniforms and trucks (at least at the start of the day!)? Are you measuring call-backs? I know, it's the third time I've mentioned it, but that's how important it is.
You can also consider lost gear or well-maintained equipment, showing up on time, and referring friends. And training new employees should always count as "productive time," because training your own people is the only way you'll be able to grow next year.
4. It's More than the Money.
Money is what everyone thinks of, but it's not the only thing that matters. Sharing a report each week that ranks your techs according to revenue will build that competitive spirit. Publicly acknowledging and rewarding great work and people living the company values goes a long way (and a gift card or two in your pocket for those moments doesn't hurt). There's also premium company swag (that fancy YETI mug, or company jacket), a special parking spot, or a night out on you. Make it about an experience for your employees, just like you do for your customers, and it will carry a lot more meaning.
5. Keep It Simple
It's easy to get into very complicated calculations. Don't. Pick your top 3 behaviors - that you can measure! - that will help drive revenue or control cost (note: customer satisfaction drives revenue AND controls cost!), and design a simple system around that. If your team doesn't get it, they won't do it. And beyond that, the first pass on whatever you design will be (get ready for it), wrong. Roll it out, measure it, and make changes. Don't be afraid to try new things to dial in the results you need.
One note… we haven't talked about "how much." It varies wildly depending on region, season, services offered, and revenue per tech or crew. Take the time to go back to your basics: how much does a tech cost, how much do they bring in (revenue), how much more could they improve things… and what's that worth to you?