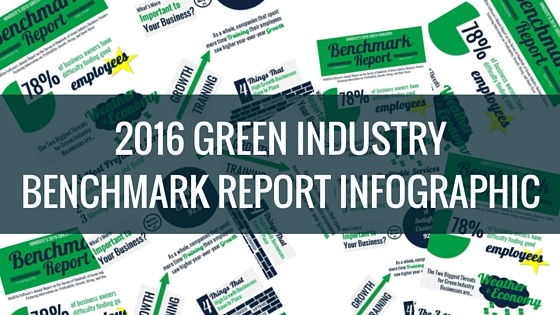 By Taylor Tuomie
We recently released our 2016 Green Industry Benchmark Report which is a comprehensive report on the state of the green industry. It contains over 60 graphs and charts with data collected from hundreds of green industry professionals.
The report covers topics such as training, marketing, sales and technology and how all those items relate to growth. It is PACKED with awesome info that all lawn maintenance, irrigation and landscaping professionals should see!
This infographic showcases some of the awesome info from the 2016 Green Industry Benchmark Report!

(View PDF version, click here!)
Want to embed this infographic on your website? We'd love it if you did! Just copy and past the code below!
Embed this infographic!
---
Now that you have an overview of some of the info that the 2016 Green Industry Benchmark Report contains, why not download it for free and check out even more great info?