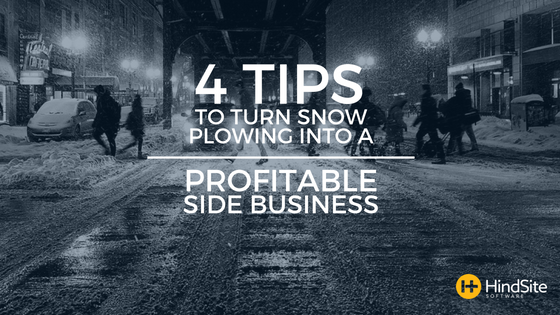 In our annual Snow Industry Benchmark Report, we survey close to 150 snow industry businesses. Their responses help uncover some of the overarching business issues and the opportunities that they face. When the right pieces are in place, a snow removal business can be a very profitable operation.
One of the key findings in our report was that only 4% of those we surveyed were snow removal only as a business. About 60% of the respondents said that snow removal was less than 30% of their annual revenue. So where are they making the other ⅔ of their money? Most are in the green industry and irrigation, some are landscapers and excavators, and a few others are in pest control or arbor care.
For most of these professionals, snow is not their biggest stream of income. Twenty-five percent of respondents said that snow removal was only 1-10% of their annual income. In one of our blog posts, we covered some of the reasons that you might NOT want to get into the plowing business. All of the reasons factor into the question, are you ready to take the steps required in order to make your "side business" into a profitable portion of your annual income? So if you're a green industry professional or a landscaper considering making the jump into snow removal, what are some of the things that you need to keep in mind? Here are 4 things that you should consider before putting a plow on your truck and hitting the pavement:
1. Your Market
You service a great chunk of the market in your area for lawn maintenance in the warmer months, but who are you going to go after as customers for snow management? Are you going to try marketing to residential clients or are you going to try gaining a few larger, commercial accounts? What do your landscaping, lawn maintenance, or irrigation customers look like? They might be a good place to start.
TotalLandscapeCare.com had an excellent blog post called How to Run a Successful Snow-Removal Business. In it, they cover the importance of knowing your market. If you're trying to go up against well-oiled operations with multiple trucks, a lot of equipment, weather tracking equipment, and even snow removal software, it might not be worth even stepping into the ring. And if you're thinking about working just with the residential side, can you get enough customers in a certain area to make sure your truck is running and moving snow without having to drive way across town to get to your next customer? You need to have a firm grasp of what your goals are.
2. Equipment
It would be tough to give an exact cost to start a snow removal business since there are so many different factors. There are snow professionals that turn a profit with just one plow truck and others that have multiple trucks, skid steers, and front loaders; the fact is, it depends on quite a few things.
What kind of equipment are you using in your primary business? Do you own a truck that you would be willing to plow with? Do you have a Bobcat that you use for landscaping? Also factored into the equipment that you already own, are you able to pay for any repairs that might occur because of your secondary operation? How about insurance for your equipment, too?
After thinking about what you have, you need to figure out what is still a need. While there are thousands of different products, you need to figure out what is going to be the best fit for you and the size jobs you plan on tackling. There are plenty of resources that you can find online that give product reviews, but here are just a few:

3. Unusual hours

Unlike other field service businesses, there isn't a set schedule for plowing. Snow events happen all hours of the day and night. You could go weeks without any work and then a larger snow event might hit and you could be working for two days straight. It can be difficult to plan your routes to make the most efficient use of your time.
Certain jobs might have different snow depth triggers as well, so you might have to make changes to your routes on the fly. Some people will want their property plowed if there is any snow and others might want you to come out only after a few inches have fallen. This is difficult to manage unless you are using snow and ice management software.

4. Is sub-contracting an option?

Plenty of larger snow removal businesses utilize subcontractors. In some cases, it might make sense to reach out to these businesses and see if they are in need of extra drivers. This might make sense to someone who isn't employing anyone else during the winter. This way, you aren't going up against the giant outfits in your area and you're using their established routes to make yourself some money during the winter.
Here is a thread on the PlowSite.com forum about subcontracting. There is some helpful advice from people who have gone this route and made it profitable. Check on job sites like Monster.com or Indeed.com and see if anyone in your area is looking for extra drivers. From our 2016 Snow Industry Benchmark Report, the contractors we surveyed stated that their top issue with subcontractors is finding quality workers, maybe you could be one of them!
Weigh the pro's and con's. Do your homework before you attach a plow to the front of your landscaping truck and hit the icy streets. Make sure you are insured properly for the job. If you know your market well enough, then start making those connections with potential customers. Right-size your equipment for the type of operation you're planning to run. If you're going to go with the subcontracting route, you might be able to get away with not spending too much on equipment. And remember, winter weather doesn't care if you had plans over the holidays, be prepared to put in those sporadic long hours!