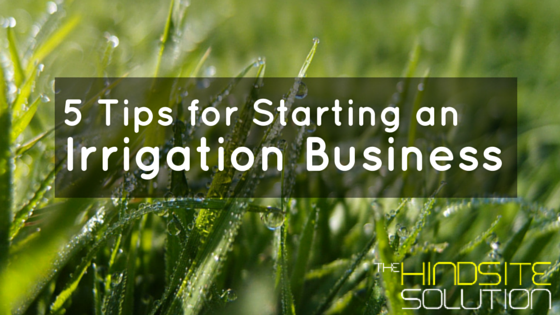 A lot of irrigation business owners have told me that the recession is over. They're extremely busy. Our numbers back that up - our typical customer has at least 1 more field crew or technician than they did just two years ago.
With all that demand, 2015 seems like a good time to start an irrigation business. If you've decided that's the case, here are five tips to get you started:
Leverage Technology
If you want to hit the ground running and immediately be at - or above - the level of your competition, you need to leverage technology to make your business more efficient. It's a lot easier to implement processes around technology than it is to transfer paper processes to an electronic world.

First, get some kind of accounting platform. According to our Green Industry Benchmark Report, the vast majority of green industry businesses are using QuickBooks. If you're just starting out, you may want to check out QuickBooks Online, their cloud-based solution. It may cost you a bit more (you pay monthly instead of buying installable software that can last years), but the convenience of being able to access your accounting information anywhere - at a PC, on a phone, on a tablet - is worth the extra financial outlay. There are other accounting solutions available, too - Xero, Freshbooks, Sage - all offer solutions that can help you manage your fledging irrigation business.
But that's not the only technology you need. Be sure to invest in field service software as well. It can help you manage your leads and sales, maintain a customer database, schedule and route, collect information in the field using a tablet or phone, and send information to billing so you can invoice immediately. Learn from your peers who transitioned from a paper process and were able to do more work with less resources - field service software can be a godsend for your business.

Start Small

If you want to be profitable, target a very specific area. It might be an area of relatively new houses looking to install irrigation systems. Or a commercial area underserved by your competition. Whatever your choice, keep your routes as tight as possible to minimize drive times, fit more jobs into a day, and maximize your profit.

I know it can be hard to ignore the call for service that's 30 miles away from your target area, but do it. Say no. Trust me, I've talked to a lot of irrigation contractors and one of the things they always say about being a young business is how hard it was to say no, but they wish they had. They took on a lot of unprofitable work, wasted a lot of time, and ultimately hurt their business because they didn't start small and slowly build.

The other bonus of targeting a specific area is you can use resources like the USPS to target specific neighborhoods and reduce your marketing costs. Who doesn't like that?
Invest in Marketing
While we're on the topic of marketing, you need to invest in it. If you want to build a true professional business, you need to invest in marketing. That means a professional logo and website, truck wraps, mailers, door hangers and social media like Facebook and Houzz.

Want some tips on how to do it on the cheap? Don't be afraid to use "guerrila" marketing tactics. Ask if you can put yard signs on customer properties. Tack flyers to telephone poles. Aggressively seek referrals with a first-rate referral program.

The internet has also cut the costs of graphic design. Using tools like 99designs, you can get a great design easily and inexpensively. Likewise on website design - there are a number of tools available that make it easy for you to create and host a great looking website inexpensively. Use these tools to get a jump on your less Internet-savvy competition.
Get to Know Your Distributor
Though there is consolidation happening in the irrigation supply distribution network, you most likely have a local distributor. Get to know them. Having a great relationship with a distributor can help you in a number of ways.

Frequently, distributors will host events that teach you the technical aspects of your job. They can also help connect you with products and solutions that you can upsell to your customers. Plus, they know other irrigation business owners and can give you advice and guidance on what to do. Distributors really can help you get your business to peak performance quickly.
Network. Network. Network.
The best way to build your business is to build a big network. Network everywhere you can. Buy business cards and keep them on hand to hand out to everyone you meet.
Local business groups are a great way to interact with other local business owners and connect with their customers. In St. Paul, our owner is active in a local group called the 49ers as well as a part of the St. Paul Winter Carnival Ice Palace committee. These groups help him connect to other business owners and build a wider network of people.
Don't forget to connect with complementary business owners. Other non-competitive service businesses - like plumbers, electricians, handymen, etc. - can be great groups of people to connect with. You can send your customers to them, and they can send their customers to you. It's a great way to build word of mouth, too.
Finally, don't forget about national organizations like the Irrigation Association or the National Association of Landscape Professionals. By attending their annual trade shows you can grow your network of non-competing peers and hopefully find a mentor you can call anytime for help with business questions.