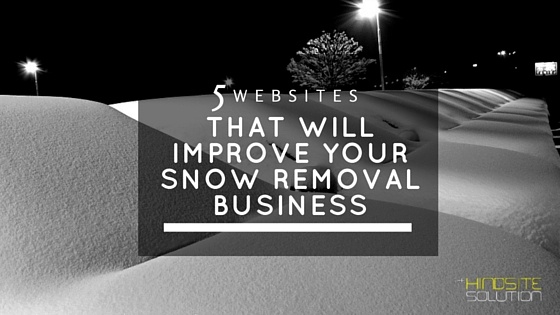 By Taylor Tuomie
Every year, we survey hundreds of snow industry professionals and compile a Snow Industry Benchmark Report. It is a great way for us to understand some of the opportunities and challenges of an incredibly unique industry. We survey owners from businesses ranging in size from one person all the way up to 100+ employees.
Over the years, we have been able to identify some very promising trends for the snow industry. For instance, last year showed that profit margins remained healthy compared to prior years, with 33% of those surveyed reporting margins in excess of 30% and that 47% of our respondents saw a revenue increase.
However, there are very real challenges that can harm business. Competition is very strong within the industry. Equipment and salt costs can be enough to turn a seemingly good season into a loss. And on the customer end, 8% of our respondents said that their customers' budget was the biggest threat to their business.
So where do you turn to keep on top of the consistently changing landscape? Where do you find and share tricks of the trade? Where do you find out about rules and regulations for your area? Here are five websites that we would recommend bookmarking and checking out in between your jobs:
Snow & Ice Management Association

SIMA can be considered an authority in the industry. They have a wealth of knowledge on their website, have thousands of members across the US and Canada, and even have a calendar for scheduled learning opportunities. Along with producing their magazine and providing information about insurance, they also have a great blog that would be worth subscribing to.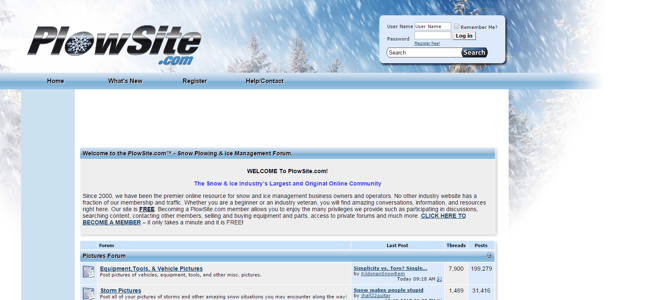 This is a great place to discuss industry topics. They have forum threads for people who are just starting out to industry experts, so there is bound to be something that you can use in your operation. It is also a great place to discuss equipment like trucks, plows, and other snow moving machinery before you make any buying decisions. Sign up to become a member to start sharing and discussing with other snow plowing professionals, it is free!
Tip: Check out this thread. Some great pictures of some the rigs people are running!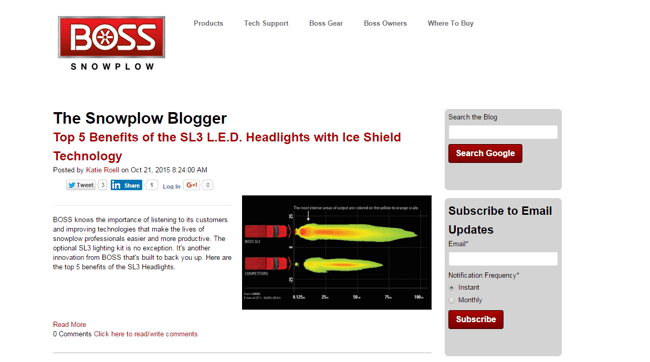 Alright, before you close out of this tab because you're a SnowDogg or a Blizzard guy, I am not trying to start a Chevy vs. Ford type argument, hear me out! They do a great job of keeping up with industry trends and also have useful product reviews of products that they aren't selling. For instance, one of their posts called What Everybody Ought to Know Before Purchasing a Box Plow gives a lot of insight and helps with the consideration of a big investment.
Check out their list of 30 Things That Made Snowplowing Better. Have you ever had to plow without heat? In an open-cab?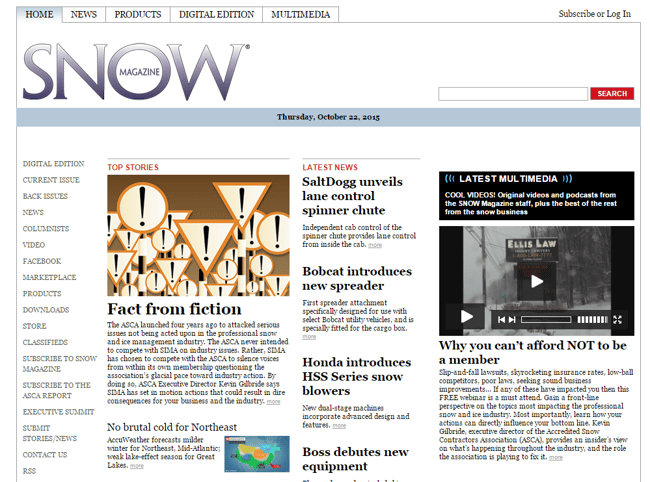 Along with product reviews and articles, Snow Magazine does a good job of writing about recent legislation and laws that have an effect on snow removal businesses. Their reviews are done by industry professionals who have tested these products in their own operations. They also have a miscellaneous section that has some stories that you might not regularly see.
Read this story that they wrote about a company in Northern Virginia called Parrish Services who started a program called Snow 4 Charity.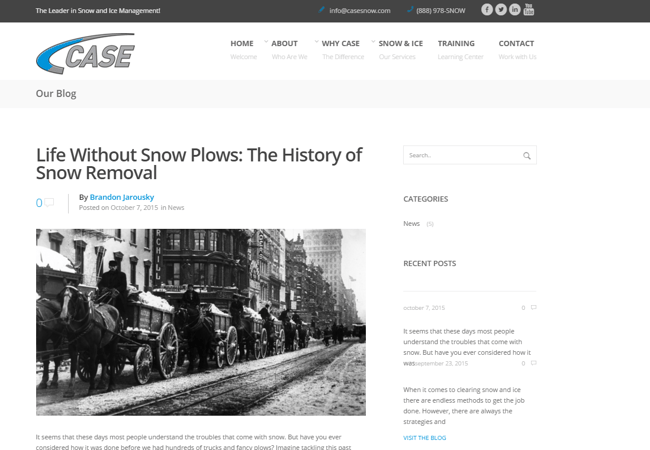 This site is a little different from the other four, use it as a case-study (pun intended). Case is a New England snow and ice management service provider and are #5 on the list of Top 100 Snow Contractors in North America. They do an excellent job of selling their value on their website to customers. Look at this page on their site that is directed at businesses looking to avoid slip and fall lawsuits. While snow management differs from region to region, this is a very real concern everywhere!
Also, for all you business owners out there, check out their blog and take some notes. Case uses it as a space to share their knowledge of the industry and helps position themselves as credible and experienced.