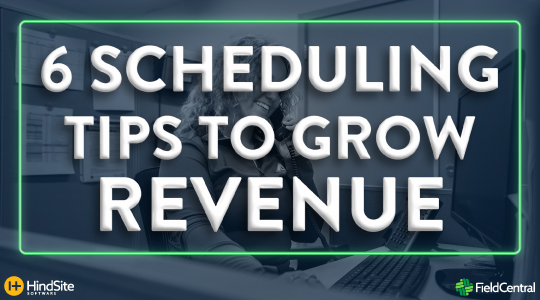 If you own or manage an irrigation business, you know that scheduling work visits can make or break your business. Efficient scheduling means you can get more work done with the team you have, complete jobs more quickly, and make more money. But if you're not organized, you could end up wasting time, missing appointments, and losing customers. And all of that means you could be missing out on revenue.
The Role of an Office Manager or Scheduler
So, how can you schedule like a pro? First of all, you need a solid office manager or scheduler who can keep things running smoothly. Having a dedicated person in charge of scheduling and managing appointments is essential for any irrigation business. They should have an eye for detail and know the ins and outs of your business. Without a good scheduler, you could end up with overlapping appointments or missed service windows.
As you well know, it's one of the most important roles in your business. The best make it look easy - efficiently handling and scheduling service calls that come into the office while simultaneously keeping a pulse on all of your techs' work for that day. All of this allows you to focus on other areas of your business that may need attention.
Using Software Tools to Streamline Scheduling
An office manager and scheduler are only as good as the tools they have at their disposal. One tool that can turn a good office manager into a great one is irrigation business software. There are plenty of programs out there that can streamline your scheduling process, such as FieldCentral.
These programs allow you to mass-schedule seasonal contracts, optimize your daily schedule, and some, like FieldCentral, provide you with the information you need to adapt and shift your day when things get chaotic. They can also help you predict service demand so you can plan ahead.
Forecast Service Demand
If you like diving into the numbers then another - more advanced - way to make your scheduling more efficient is to predict service demand for each month during the season. Irrigation businesses can estimate future demand by analyzing historical data, tracking seasonal patterns, and monitoring weather forecasts. For those above the freeze line, you'll of course have to account for start-ups and winterizations that bookend your season.
By doing so, businesses can better plan their resources and schedules to meet demand, reducing downtime and increasing productivity. By understanding when your customers are likely to need your services, you can plan your schedule accordingly, ensuring that you have the right resources available when you need them.
Knowing What Each Appointment Requires
Speaking of planning ahead, it's important to know what each appointment requires. Do you need to bring any special equipment? Are there any specific customer requests you need to remember?
Knowing what's needed for each visit will not only ensure techs have everything they need to complete the job, promptly but it'll also make sure certain equipment - like a trencher - doesn't get double booked. By preparing for each appointment in advance, you can ensure that you're making the most of your time and resources.
Using and Managing Service Agreements
One way to ensure you're always prepared is to use service agreements. By outlining the work you'll do and when you plan to do it, service agreements make it easier to forecast demand and schedule resources accordingly.
End-to-end software makes managing all of your agreements a breeze and saves you a ton of time. For example, FieldCentral will alert you when you have incomplete work orders and even captures data that allows you to recognize customers' needs before they do.
Automating Scheduling for Service Agreements
Finally, if you really want to take your scheduling to the next level, consider automating your scheduling for service agreements. Many software programs allow you to set up and optimize recurring visits automatically, so you don't have to manually schedule each one.
This can save you a lot of time and make sure that no appointment falls through the cracks. By automating your scheduling processes, you can free up valuable time and resources, allowing you to focus on other aspects of your business.
One simple way to boost your revenue is to review your scheduling processes and systems and see where you can be more efficient. And more efficient scheduling means you'll be able to take on more jobs, complete them faster, and make more money - without having to grow your team or add techs.
If software is one of the pieces missing in your scheduling process, check out FieldCentral. It's the only end-to-end business software built specifically for, irrigation business owners, like you, by people who've actually lived it.