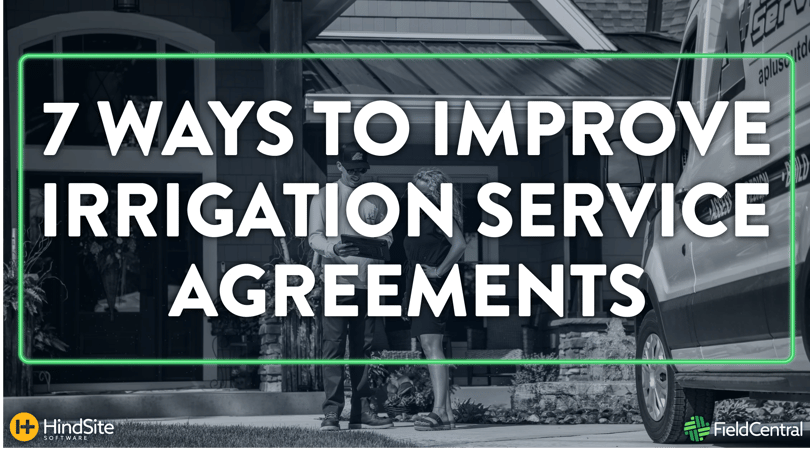 Service Contracts Build Value
No matter where you do business, be it a year-around market (where customers can benefit from proactive checkups and maintenance) or a seasonal one (where customers need you several times a year for startups and winterizations, and make sure both are done right!), service agreements just make sense.
Service agreements are great for your customers, because it ensures they get the services they need, at the right time of the year, and - depending on how you structure it - they only pay once for the year's regular services and preventive maintenance. It's great for budgeting, and it stops them from ignoring some of these services (or asking for them at the wrong time).
Service agreements are great because they build predictable work and revenue every year for your business. You also build a proactive relationship with your customers (instead of waiting - maybe even hoping? - for them to call).
And, not least of all, it increases the value of your business! Showing that you have a predictable (and growing) source of revenue, and one that's down on paper (vs. a handshake with the owner, no matter how much we may miss those days) makes it a much more attractive option.
Improve Your Service Contracts & Agreements
How do you win more renewals, and get more of your clients signing up for agreements? Here are 7 things you can do.
1. Timing
Make your annual contracts start in September. Too many contractors wait until February to send out sign-up emails and renewals. The best time is right after the season has finished. You've delivered reliable, trusted service all year, so while the value is fresh in their mind, get them signed up for the next one.
2. Sell Partial Agreements
When you do a service call for someone not on contract, sell them a partial agreement for the rest of the year. It could be prorated or just a slimmed-down version of specific services, but doing this educates customers that this is the best value for them, and builds the habit!
3. Offer Options
The most successful contractors will offer two or three packages, bundling up the normal services all customers need. For example, a northern contractor would bundle a startup, mid-season check, and a winterization. Then layer on the other services you provide (e.g. fertilization, landscape lighting maintenance), or bump up the number of mid-season checks. You can also offer a-la-cart options for things like aeration, fall cleanups, etc.
4. Monitoring
Wi-Fi controllers are an easy upgrade. Consider offering a bundle price for the hardware to add monitoring (usually a timer upgrade) and an annualized cost (e.g. $150/season). This also builds work for you in the winter months, when you can come back and do the installation and configuration.
5. Auto-Renew
Collect and store a credit card, set up payments via ACH, and update your agreements to auto-renew each year. This means fewer emails and phone calls to confirm the agreement or chase payment. It's also common to ask for a 60 or 90-day notice to cancel a contract.
6. Be Persistent
It will take more than one door hanger, phone call, or email, to get people signed up. Customers are busy, they're bombarded with media all the time, and while they want to work with you, it will take a few tries to make sure they see it and take action. So send multiple reminders across multiple channels.
7. Add Incentives
Build in some incentives to the agreement structure and pricing. If you're not doing auto-renewals, then give "early bird" renewal discounts. It will get customers to write the check, so they save some money, and it secures that revenue for you.
And of course, the bigger the package/the more services you include, the more you can offer. In fact, we'd recommend only offering discounts on the larger packages. As always, please take the time to model this as part of your pricing strategy.
Taking some, or all, of these will help you build a portfolio of service agreements that ensure your clients have the best service, systems, and yards possible, and will give you peace of mind, and a more valuable business.