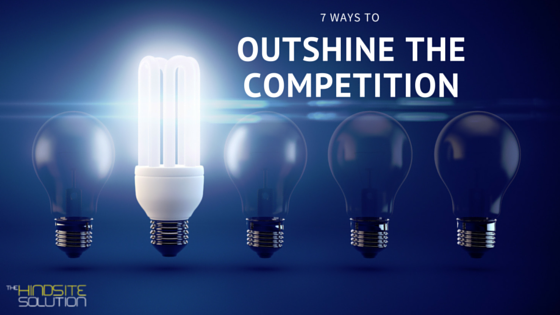 Every year we conduct a survey of snow removal businesses. What we find is compiled into a comprehensive report, the 2015 Snow Industry Benchmark Report. It's a behemoth, a 35-page report with dozens of charts and lots of insight.
What we find every year is that most snow removal businesses feel there's an above average amount of competition in their territory. This year was no different: 23% of respondents said there was a high level of competition, while another 21% said they encountered an above average level of competition in their market.
So how does a snow and ice removal business stand out in a crowded market? Here are seven tips taken from data released in the 2015 Snow Industry Benchmark Report.
Be a full-service solution.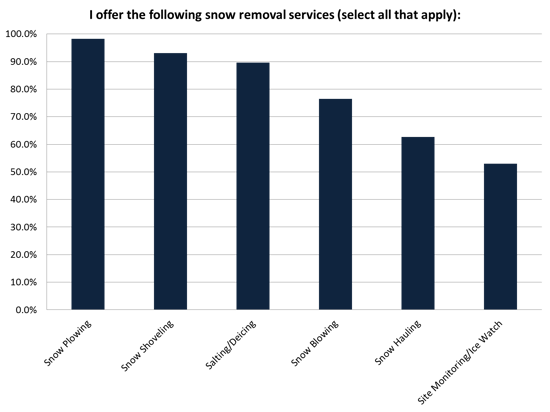 One way to win business is to offer everything. When we asked which of the following services were offered by survey respondents - plowing, shoveling, salting/deicing, snow blowing, snow hauling - we found that 54% offered all of those services. Another 50% of respondents offered site monitoring/ice watch services.

If you want to compete, you need to offer as many services as possible. If you don't have the equipment to haul snow, find someone who does and subcontract the work to them. The more services you can offer, the better able you are to serve a multitude of customers.
Join SIMA.
As the old saying goes, knowledge is power. One of the best places to get knowledge about how to run a snow removal business is by joining the Snow and Ice Management Association, or SIMA. SIMA is the biggest snow industry trade association, which is why the Benchmark Report found that 30% of respondents are members.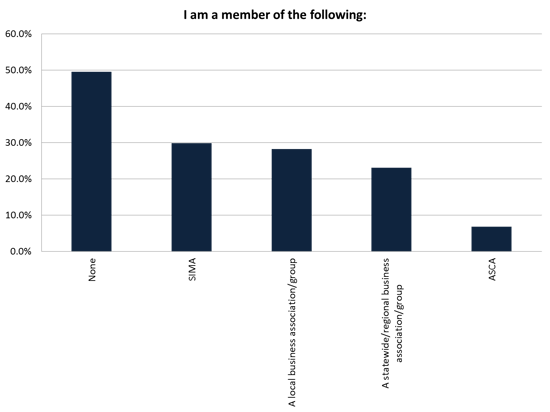 In addition to training resources and certifications, SIMA hosts the largest trade show dedicated to the snow industry, the Snow and Ice Management Symposium. It's chock full of snow removal software, equipment and material vendors, informative educational sessions and, most importantly, networking opportunities that can help you connect with non-competitive peers and learn what they're doing to improve and grow their snow businesses.
Be a better marketer.
Every year the Snow Industry Benchmark Report tells us that the biggest area in need of improvement in a snow business is marketing. This year was no different, with 33% of respondents saying they most needed to improve their marketing.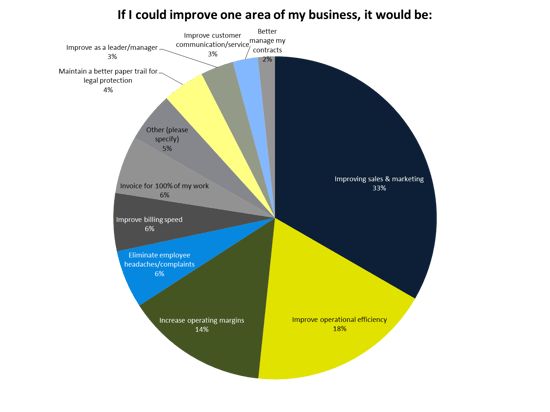 When we looked at the tactics snow businesses are using, it's not surprising that marketing is in need of improvement. The only tactic the majority of snow businesses consistently use is trying to generate word of mouth.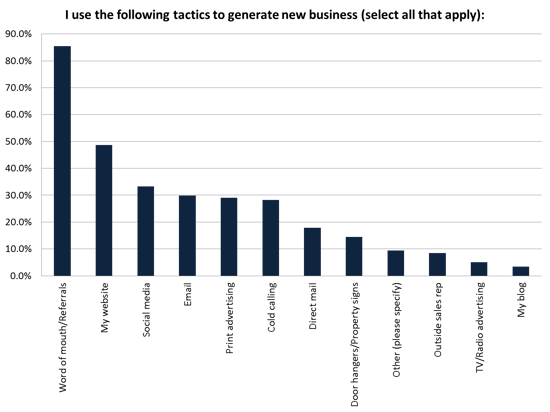 If you want to be better than your competitors, be a better marketer. I'd start with branding your equipment. It's relatively inexpensive to add signage to your equipment. Then, work on your website. Try to optimize it for local search. Spend some time on social media - Facebook is probably your best bet, but don't forget about upstarts like Houzz.

Great marketers learn by doing. Dedicate time every week to a marketing effort. Put together a plan and execute it, making sure to measure what works and what doesn't and incrementally improve. By spending time trying tactics other than word of mouth, you'll already be ahead of the majority of your competitors.
Improve efficiency with field service software.
In addition to improving their marketing efforts, snow contractors cited improving operational efficiency as their second biggest need. Given that, we were surprised to find that there was no significant year-over-year increase in the number of businesses using field service software.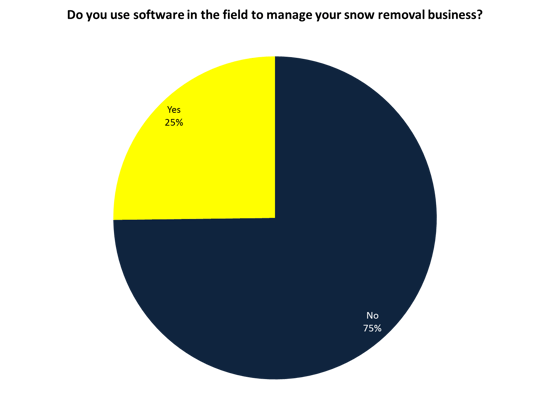 In addition to eliminating paperwork, the most cited benefit of field service software was that it improves operational efficiency. Our snow plowing software simplifies everything from dispatching and routing, to data collection and billing, all while giving real-time visibility into the status of each site. Our customers say they can bill in minutes, not days, they can better react to event emergencies, and they've got a complete record of all their work.

You don't have to use our software, but if you want to improve efficiency I suggest taking a look at snow plowing software.
Use email to automate communications during and after an event.
One of the biggest things your customers want during a snow event is peace of mind. They want to know that their property is going to be clear of snow and ice as soon as possible. To deliver that peace of mind, many snow contractors call their customers to discuss the event and their snow removal plan. But that's time consuming.

A better way is to automate that communication with email. And, surprisingly, few of your competitors use email to communicate during a storm. In fact, 75% don't. A service business marketing solution, like our email add-on HindSite Connect, makes it easy to send emails before, during and after an event. You can notify customers about the weather, your plan, and then tell them when you completed your work. It's a great way to not only improve your customer communication, but also save time.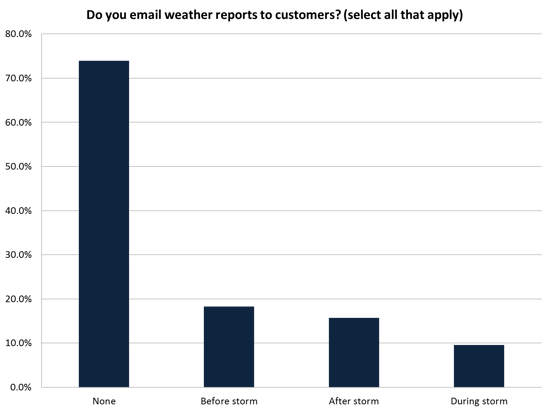 Pay your subcontractors quickly.
More than half of the respondents to the 2015 Snow Industry Benchmark Report use subcontractors. The biggest issue with subcontractors they cite is an inability to find good ones - that's an issue for 40% of respondents.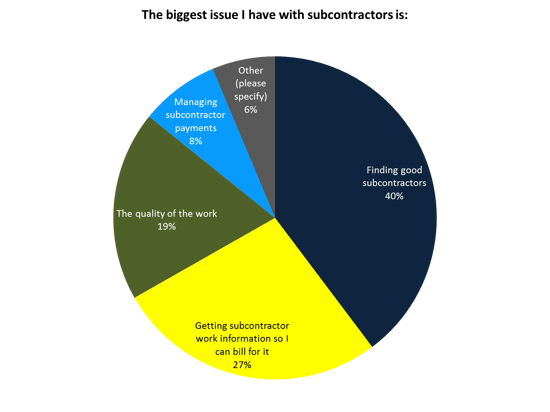 The solution: Pay your subcontractors faster. Those that do are much less likely to report finding good subcontractors as an issue. That's not surprising - if you pay people quickly, they're more likely to want to work for you.

But there's a catch-22 in there. The second-most reported problem with subcontractors is that they don't turn in their paperwork on time. So if they don't turn it in on time, how the heck do you pay them?


Again, the aforementioned software can come in handy. If they enter their data electronically in real-time - either by a mobile field service software app or via a web portal - you can eliminate two issues in one fell swoop. You'll get data immediately, and your subcontractors will get paid quickly.
Invoice faster.
I was talking to a large commercial snow removal contractor and asked what his customers' biggest complaint was. I was surprised to hear that it was his inability to send an invoice within 10 days of event.

Large commercial customers want to be invoiced quickly. They hate having open invoices hanging out there ruining their books. Obviously, you want to be paid quickly too so you don't have cash flow issues.

For half of snow contractors, it typically takes more than 7 days to invoice after a snow event. Billing quickly is all about collecting the information you need during an event and quickly inputting that information into your billing system. Mobile field service software is the key to quick billing. Here's how it works:
You setup billing rules and routes in your snow removal software.

When a snow event occurs, you add those routes to your employees and subcontractors' list of work to perform.

They either time in and time out on a mobile field service software app, or enter time in and time out data on an Internet portal. They can also enter additional information like snow depths.

That data is synced to your snow removal software database and then compared to your billing rules for each individual customer. A billing report is created that is sent to your accounting platform - like QuickBooks.

Then you send invoices.

Your entire operational processes are simplified, making it easy for you to bill.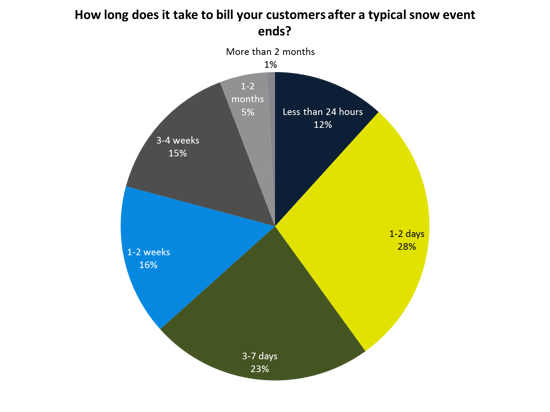 If you implement these seven tips, you'll be light-years better than the competition in your market.