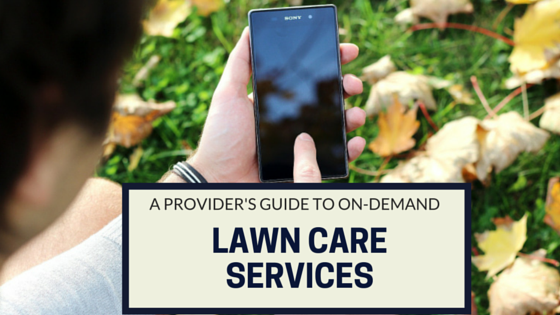 Last week I had a chance to use Uber for the first time. It was drop-dead simple. I ordered a pickup, set my destination, an Uber driver picked me up, delivered me to my destination and Uber paid him. It was a much better experience than calling a cab.

That's why Uber has taxi companies fighting to keep their business. They're lobbying cities and municipalities to try to keep Uber out of the markets they serve. It's disrupting their business.
Could the same soon happen to lawn maintenance businesses?

It's a distinct possibility. So called on-demand lawn mowing is taking off, with heavy hitters like Amazon entering the marketplace, as well as a number of well-funded startups, on-demand lawn mowing could fast become the norm.
So how does it work? From a consumer's perspective, it's as easy as ordering an Uber ride. Most solutions enable the consumer to download an app, simply schedule a single or recurring service, and then get an instant quote. The on-demand service collects payment, and pays you, usually taking a fee off the top.
Becoming a provider for an on-demand lawn maintenance business has its positives and negatives. If you're looking to grow your business, a service like Amazon can connect you with a lot of new buyers. The problem, of course, is that these services treat lawn mowing like a commodity, which means it may not be as profitable as new business you generate yourself.
Let's take a look at some of the most popular on-demand lawn maintenance services:
Amazon
Amazon has a built-in advantage in on-demand services strictly due to their market dominance as an online retailer. However, in some cases that may work against providers in their services marketplace. I've heard anecdotally that Amazon forces many service providers to significantly slash their prices in order to compete. The low bid often wins.
Locations: It appears as though Amazon has a large footprint, though they don't specifically state where you can buy lawn mowing services.
How it works: Service providers must apply. Once accepted, you can input your rates into Amazon's database. When someone in your area is shopping for the lawn care services you offer, they'll be displayed along with reviews. The shopper can then select and order your service.
Amazon touts its service as invite-only, however service providers can apply. You must pass a background check in order to be listed. Amazon doesn't cost anything up-front, but they do take a significant portion of your money, up to 10% for recurring services like lawn mowing, and up to 30% for one-time services. And, unlike other services, Amazon only pays their service providers every 14 days.
More Information: Visit http://services.amazon.com/selling-services/ref=vas_sdp_btf_apply to learn more and to apply.
Plowz and Mowz
If you deliver snow removal services in addition to lawn maintenance services, Plowz and Mowz may be worth investigating. Launched in 2013, Plowz and Mowz has expanded from one city to more than 35 in the past two years. Unlike Amazon, Plowz and Mowz sets the prices for service, which means providers may make less than they would for jobs they've sourced themselves.
Locations: Launched in Syracuse, NY, Plowz and Mowz now operates in the Twin Cites, Boston, Buffalo, NY, Rochester, NY, Indianapolis and other mostly northern markets.
How it works: Providers sign up and then use an app to find jobs. Prices are set by Plowz and Mowz, who also take about 20% of the amount the customer is billed. However, if you choose direct deposit payment, Plowz and Mowz will pay you within 24 hours of the completion of service.
More Information: To learn more and to sign up, visit http://plowzandmowz.com/join-our-fleet/#top.
GreenPal
Founded in 2013 in Nashville, GreenPal helps connect homeowners to lawn mowing services. Unlike Plowz and Mowz and Amazon, lawn mowing is the core focus of their business. Built by a former landscaping business owner, GreenPal touts its marketing strength as a core competency.
Locations: Started in Nashville, GreenPal plans to expand slowly into other markets.
How it works: GreenPal is similar to an online auction in that homeowners list their lawns on GreenPal. As a provider, you'll choose whether to bid or not. Once you submit a bid, homeowners can see your quote, reviews and pictures of your past work, and then make a decision. You perform the work, then submit a picture of the finished job. It's unclear how long it takes GreenPal to pay you, though they store customer credit card information and collect payment quickly, so the assumption is that they deposit funds into your account quickly, as well. GreenPal takes a 5% cut from your bid and also charges a 3% credit card fee.
More Information: To learn more, visit http://www.yourgreenpal.com/welcome_vendor.
Choosing to partner with an on-demand service can reduce your marketing costs and help you generate new business. The main drawback is that you have to share revenue with a third party and, in some cases, can't use your standard market rates. That said, whether you like it or not, on-demand service is here to stay and has the potential to disrupt your business.