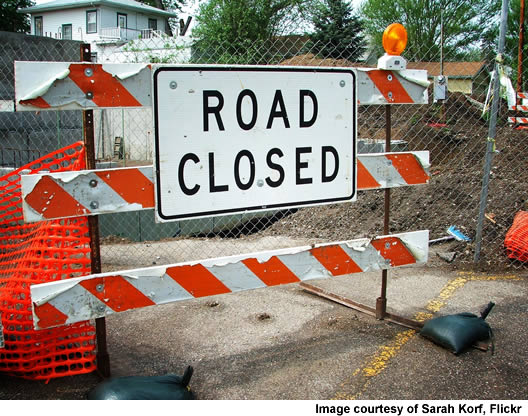 "Drivers in one-third of U.S. cities spend more than 40 hours a year (an entire work week) in traffic that is not moving."
(Source: Center for Transportation Excellence)

Road construction affects the level of customer service your business provides. When your techs show up late to a job site the customer feels their time is not valued. A customer feeling undervalued is not a happy customer. Your techs should always be punctual to show respect to your customers.
Construction can also cause your business to lose money. If you pay your employees by the hour and have a truck full of workers stuck in traffic, you are losing some serious money. Plus, the time lost in traffic has to be recovered. This usually means your techs working overtime, causing an even bigger loss. Those extra hours hurt.

Tips:
To avoid unhappy customers and lost productivity, go to http://www.fhwa.dot.gov/trafficinfo/. This site really is one of the best out there. Not only will it give you information on construction and road closings, it also provides you with traffic conditions.
Stay alert. Do your research ahead of time. Watch the news and listen to the radio for road closing. When you hear of construction or road closings, find alternative routes for your techs. Tom Vanderbilt, author of Traffic says, "When roads are closed for construction, traffic on other nearby roads often decreases rather than increases."
Don't led road construction hinder your techs. Start each day prepared for any bumps, or road blocks, that may come your way. Not only will it save you money, it will save you a lot of stress.