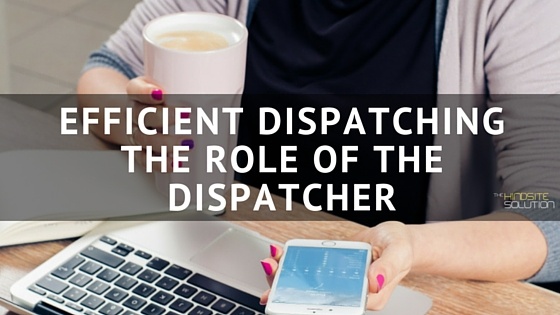 Our last post centered on the role of the dispatcher, as discussed by Ruth King and David Crary on HVACChannel.tv. Today's post will focus on 4 tips to become a more efficient dispatcher.
Tip #1: Never say "No."
One part of a dispatcher's job that surprisingly takes some practice is speaking with customers. It takes some time to learn how customers work and what each one expects out of you. Some customers can be pushy when they want a job done, while others are more laid back and are willing to wait. Learning to say no without saying no is a key point King made. "Instead of saying no, say we can't do it this day, but we can do it this day". Crary added that "customers, more times than not, are willing to work around your schedule. You'd be surprised". Give them options, but never tell them you can't help them. They will immediately move on to your competitor. You can even offer to come out sooner if a cancellation occurs. This way you are giving the customer hope while also being realistic with them.
Tip #2: Learn to Triage
Triaging the calls is another skill dispatchers need to master. Determining which calls need to be addressed ASAP and which can be scheduled for later in the week or month takes time and practice, but mastering it can have positive effects on customer satisfaction and on time management.
Tip #3: Route Profitably
Another part of setting the appointments entails routing the technician to the location. To efficiently dispatch, your dispatcher needs to be able to route the technician profitably. You don't want to send them all over the map in one day. Gas prices are too high and it isn't time efficient. Using a mapping tool can help dispatchers see where their techs are located during the day so when an emergency job arises, they can send the nearest tech to the location.

Tip #4: Perform a Post Mortem
Just because the appointment is set up and on the schedule does not mean the dispatcher is finished with it. They still need to do some debriefing. They need to check with the technician to see if they received the customer signature, model or serial numbers, or age of the equipment. Keep notes on each customer so you have a history of their business with you. Dispatchers also need to find out if the job was actually completed. Was money collected? If it wasn't, they need to figure out why it wasn't, if it needs to be rescheduled, and what will be needed to complete the job (i.e. parts, a more experienced tech, etc).
By mastering and following these four tips, you can become a more efficient dispatcher for your field service business. It takes some time and practice developing certain techniques, but once you do you will see higher customer satisfaction levels, not to mention higher productivity. Good luck!
---
One way to dispatch is through leverage software. If you're in the market for software, now's the time to buy!