In January, we surveyed green industry contractors to better understand the issues they face as well as their outlook for 2013. As we were reviewing the data from our Green Industry Benchmark Survey, we noticed an interesting trend: Businesses that use field service software (which was only 32% of those surveyed) were much more likely to have grown revenue in 2012. Here's the breakdown: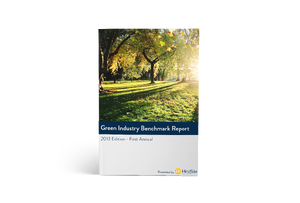 Using Field Service Software

Not Using Field Service Software

31.9% saw growth exceeding 20%

79.7% saw some growth

7.5% saw revenue decline

17% saw growth exceeding 20%

64.5% saw some growth

20.4% saw revenue decline

As you can see, field service software users are almost twice as likely to have experienced growth exceeding 20%, while those not using field service software were almost three times more likely to have seen their revenue decline.
It was eye-opening. Obviously, field service software isn't the only reason for this disparity. As we've found, those who decide to purchase field service management software seem to be the businesses that want to grow. In addition to software, they may have adopted other practices or equipment that improves their productivity and grows their revenue.
But field service software is most likely making large contributions to their success. Here's why:
Field Service Software Helps You Deliver Better Customer Service – One of the great features of field service software is that it centralizes your customer data into a field service CRM. Not only can you store basics – names, phone numbers, emails, etc. – but you can also track other data – security codes, notes that tell your tech not to leave the gate open because the customer has a dog door, detailed customer expectations – that helps you tailor an experience to your customer. Plus, because software maintains a complete customer history, you can answer customer questions quickly and easily, before the customer gets irate at having to wait for an answer. And more importantly, field service software frees you to do what you do best – service your customer.

Field Service Software Improves Cash Flow – Businesses that don't use field service software typically use paper to track how long a job takes and what parts were used. And most field personnel don't submit their paperwork immediately. They may write down their time and parts at the end of the day or, even worse, at the end of the week. And if their memory is in any way similar to mine, they're probably forgetting parts.

And let's not forget about illegible paperwork. If they turn it in at the end of the week and your office team can't read it, they have to track down the field tech for clarification. In some cases it can take weeks or even months to send out an invoice.

Not with field service software. Because the tech tracks their time and parts in the field using a device with mobile field service software, it's easy to bill – usually the same day! If the software is like HindSite, it even syncs with the click of a button to QuickBooks (which, according to the Green Industry Benchmark Report, is used by almost 80% of green industry businesses), making invoicing a breeze.

The end result: Improved cash flow.


Field Service Software Helps You Retain Customers – We've already mentioned that software can help you deliver better customer service and invoice accurately every time. Obviously, those two things help you retain your customers. But you can also leverage the power of a field service CRM to segment your customers so you can better market to them. For instance, create a field to note different levels of customers, like A, B, C, D based on their satisfaction, revenue, and/or influence. Then create targeted marketing campaigns to upsell them services, get them to refer you to their friends, or just nurture the relationship. Field service software can help you better understand – and serve – your customers.


Field Service Software Creates Defined Processes – Think of your business like an assembly line. There are a series of processes that happen for everything you do. If you decide to skip a process, it can lead to trouble, like a bumper-less car.

Field service software can help you standardize your processes so things don't fall through the cracks. A prime example is an incomplete work order. In a paperless world, your tech may not communicate to the office that they weren't able to finish a job. They may be booked solid the next couple of days, meaning that customer with the incomplete work is left in the lurch.

But with field service software, you can quickly and easily see what jobs were not completed, and rectify the situation before the customer complains. This defined process saves you the headache of an irritated customer call. And it's just one small example of how software can help create defined, repeatable processes that will have your business humming like an assembly line.

Field Service Software Helps You Better Understand Your Business – Many contractors run their businesses based on a gut feel honed by years of experience. They see money coming in and they know they're doing well. If the money isn't coming in, they know they're not doing well. But that's the extent of their business analysis.

Field service software, on the other hand, makes it much easier for you to understand what's happening. With HindSite, you can track productive and unproductive time to see who is performing and who isn't. You can track the average amount of time for a specific service and compare personnel. You can track how you're performing compared to the previous year. All these data points help you determine how well your business is doing and help you act fast to change course, if necessary.
Add it all up and the results we uncovered in the Green Industry Benchmark Report make a lot of sense. Anecdotally, we've heard the same sentiment from our customers. We recently sent a customer satisfaction survey and were surprised when people said they weren't likely to recommend us. When we read their comments as to why, we realized it was because they didn't want their competitors to use HindSite because it's such a competitive advantage.
Which is why, if you're one of the 68% that hasn't yet embraced field service software, you may want to start investigating solutions that can help you improve your customer service, create defined processes, and track your business' progress.