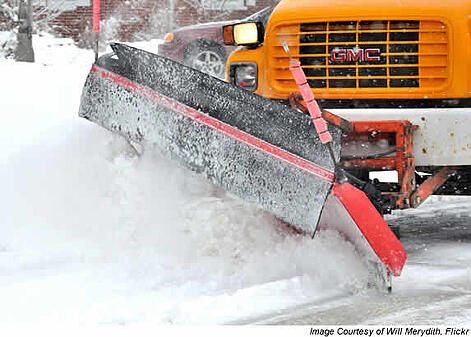 Snow removal contractors don't have an easy life. When a snow event hits, every one of their customers wants their property – whether it's residential or commercial – to be free and clear of snow immediately. Managing those customers and the logistics of plowing multiple properties – often in the middle of the night – is a real challenge.
Below are 5 reasons snow contractors need snow removal software, even when it's the last thing on their mind.
Customer and Contract Management

One of the most beneficial features of a snow plowing software program is contract management.

How many contracts do you set up each year?

And how many are you able to keep track of with the immense amount of paperwork that goes along with contracts?

A field service software program that allows contract management will be a huge help when managing customers, snow triggers, and plowing schedules.

How? By enabling you to store all your customer and contract data in a centralized database that's accessible in the office and in the field. Plus, software greatly simplifies contract renewals.

If you're trying to answer a customer's irate call asking why their lot hasn't been cleared, the last thing you want to do is put them on hold while you try to contact your subcontractor. With snow removal software, you don't have to – you'll have everything at your fingertips immediately.


Managing Subcontractors

Snow removal software will also help when it comes to the management of your subcontractors.

It can be difficult to know exactly when and what your techs are doing on site and even harder when you add in subcontractors.

A field software program allows your subcontractors to time in and out, see the contract terms and conditions, check any field notes for the property, and make any notes that the office should be aware of.

The plus side is that for most field service software, the subcontractors can use their own smart phone or tablet , meaning you don't have to shell out the money for a new device.



Protect Your Business

You've probably been there before. The statute of limitations to file a claim is about to run out, and suddenly you're hit with a lawsuit from a snow event that occurred nearly five years ago. You better hope your paperwork is in order. Paper is messy, unorganized, and unreliable.

You never know if your guys recorded everything that happened on site or how accurate what they do record is.

When customers call in threatening a lawsuit over an unplowed property or over someone slipping on a sidewalk, snow removal software will be your best friend.

You are able to look up a customer's history with the click of a button, informing them immediately why something was not plowed or to see what time your guys were on and off the site.

The field side also benefits from the software.

If for some reason your guys did not plow a customer's property, they can mark why they didn't and you will receive that information in the office giving you answers almost immediately, without deciphering the hand written work order and tracking down the technician.



Route Efficiently

Your techs usually are not doing much thinking besides getting to a site, plowing, salting and shoveling, and heading off to the next site.

Snow removal

software helps them limit the amount of time spent analyzing while also ensuring they are only plowing those sites that need it as stated by the contracts.

Snow removal software allows the office to route techs according to what is most efficient gas wise as well as what follows the contracts set up for each individual customer.

If you're like a lot of snow contractors, you're plowing properties if there's a half-inch snowfall, even though your contractual trigger says it's two inches.

It's common in the snow plowing business to plow for someone when their contract doesn't call for it, or completely forgetting a customer.

With the routes set up ahead of time, your techs will be able to focus on the current site, instead of doubling back to fix an error.



Eliminate Billing Nightmares

Pricing models within snow plowing businesses can be quite complex.

There are flat-rates, time and material, monthly or seasonal rates and per event rates that are all set on different snowfall triggers.

This can be a long process when it comes time to bill, meaning it takes longer for you to get paid.

No one has time to spend days on billing, especially when snow events hit so sporadically and at random.

With a snow removal software program, billing is no longer a hassle.

You are able to set up your billing based upon your contracts, meaning with a few clicks of a mouse you can have customers' bills completed and ready to be sent out within hours.
Snow removal software is one of the best investments you can make for your snow removal business. It will cut time, costs, and stress out of your business so you can spend more time working on your business, instead of in it.
Are you a snow contractor? Heading to the SIMA show in Minneapolis at the end of this month? Like free lunch? If you answered yes to any of these questions, HindSite has the event for you! Join HindSite for a free State of the Snow Industry luncheon and to discuss results from our Snow Industry Benchmark Survey with other professionals within the snow industry.