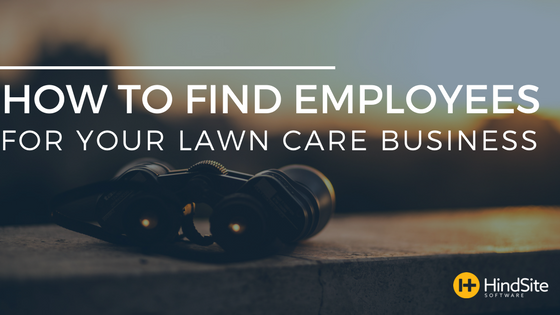 Are you looking to take on a new specialized service? Or perhaps your work load is just getting too big for the current staff you have on hand. No matter the reason, finding a reliable and hardworking employee is still one of the biggest issues many lawn care business owners struggle with.
I have heard it time and time again from our current customers. They hire a great fit for the company, the guy shows up for the first couple days or weeks, and then he disappears. This is a stress on the company for a number of reasons. One, it was a waste of your time and money to invest anything in this employee. Secondly, your company feels the strain of picking up the extra slack that was originally supposed to be covered.

So how do you find employees for your field service business? Here are a few options:

Ask Current Employees – One of the best ways to get reliable employees is through referrals. For one, it is easier than putting an ad out there. You simply ask your guys to let any of their friends looking for work know you are hiring. Secondly, your employees rarely like looking bad. They will not recommend someone who would make them look like a fool for suggesting them for a job. A friend's reference is much more likely to stay with the company and be loyal then someone you grab off the street.
Some companies even incentivize their employees to recommend their friends. I've heard of lawn care businesses that pay their employees as much as $200 if their referral becomes a productive new employee.

Social Media – Another option is to reach out via your social media pages. My suggestion would be to stick with sites like LinkedIn, as this is where more professional options can be found. You can post your listing in certain groups that relate to your industry, city, etc. And don't forget to ask your employees to do the same – the more people that share your message, the more likely you are to find a great new hire.

Look Within The Company – If you are looking to take on a special service, and don'tneed another guy in the field, try reevaluating your own team. You may have someone in your company that is suited to take on the new service.

While the employee may need some additional training, certification, and time to learn the service, this could be a better fit than bringing in a new person. With a new person, you never know what you will get, whereas with your employees, you already know what you will get.

The important thing to remember when looking for a new employee is not to rush it. At times, this can be hard. Especially if you have an influx of appointments or have an employee leave the company unexpectedly. Rushing in and grabbing the first guy you interview, however, will usually not work out for the best. You don't have the time to commit to finding a good fit for your company and could end up wasting more resources on a bad employee than on being without one.