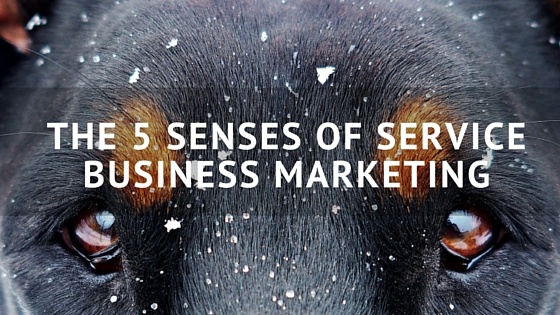 We all know the five senses of our bodies: sight, sound, touch, taste and smell. There are key things your body uses and needs to function every day. While we can certainly survive without one or more of these senses, I think we can all agree that it is nice to have them all.
Your service business marketing functions kind of the same way. If you can use all five senses of small business marketing, you will have much more success in gaining new and qualified customers. So how exactly are there five senses in marketing? Let's look:
Sight and Sound
Sight and sound go hand in hand when it comes to marketing. The point is to get your name out there. Whether it's through word of mouth or being seen on social media, your name needs to be seen and heard.
Ask your top customers (the ones who are loyal to you and are willing to spend a little extra time because they know you are worth it) to refer you to their friends, family, and neighbors. Word of mouth is a great way to get your business noticed. Referrals are a little more credible than self-promoting yourself, especially when it comes from someone the referees know.
Get your name out there. Post pictures of your work on customer's properties on social media (with their permission of course). Send out flyers advertising discounts for first time customers. Brand your truck. A branded truck parked outside a residential area is one of the best forms of advertising that requires the smallest amount of work.
Touch
Make a connection with a potential customer. By making a connection and making it memorable, you have a better chance of that person or company choosing your business in the future when the time is right.
Have your techs hang door hangers on their customer's neighbor's doors. Help sponsor events within your community that help the community.
Don't be afraid to ask. If you see a potential customer in sight, ask them if they'd be interested in getting an estimate. Make contact with people so they know your business exists and what services could be beneficial to them.
Taste
Give your potential customers a taste of what your field service business does. Offer them a free hour of lighting when they schedule a blowout with your company. Have techs mention when they notice a part or piece of equipment that will need to be replaced.
Giving customers a taste of great customer service and showing them the many other services you can offer is a good way to have customers coming back for more. If you got a sweet deal or were treated especially nice by a service provider, you'd probably call them next time you needed work done.
Smell
Keep your scent around the area. Just because you were able to snag a customer for a service once, does not mean they will remember you next year. Keep your scent strong and stay present. Sending out monthly mailers, emails, etc. is one way for customers to remember you.
When the season ends, don't end your marketing. Keep customers on your scent and wanting more from you because of the awesome job you did for them in the spring. You want your customers to follow you almost like a dog on a pheasant. Not only is it easier than chasing customers, you are offering things your customers want, and clearly the competition can't offer.
To market, you must use all five senses. Using one or two is all fine and good, but you are a stronger marketer if you are able to provide all five senses for your customers and potential customers.