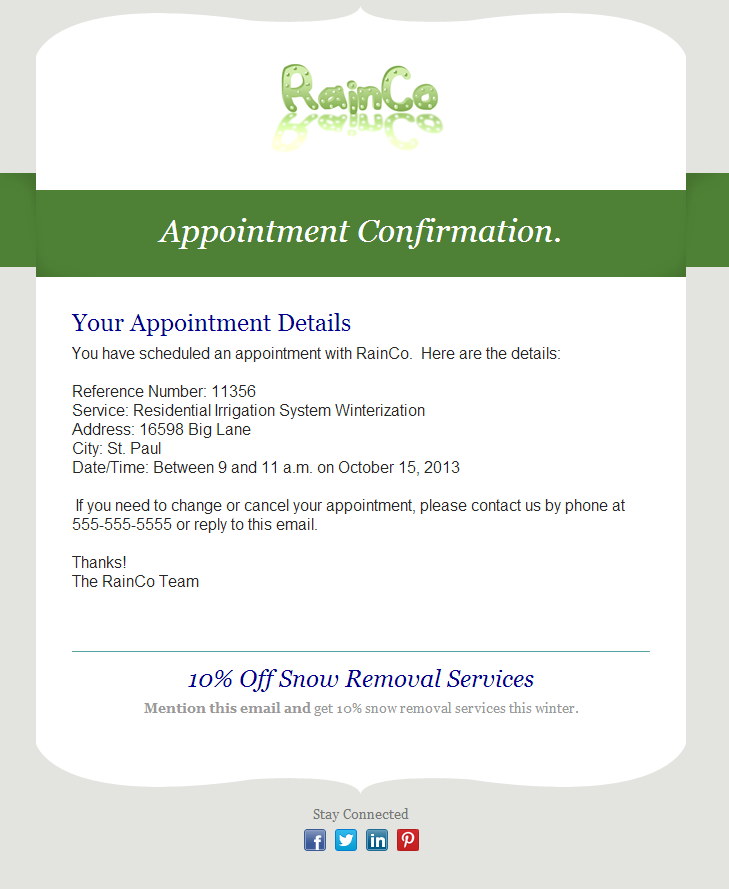 By Chad Reinholz

If you've ever shopped at Amazon, you know what a transactional email is. Essentially, it's an email that you receive when you've completed a transaction with a business. In Amazon's case, that's usually a number of different emails:
An order confirmation - Immediately after you've ordered, an email is sent with more information about your order and an expected shipping date.
A shipping notification - Typically, once your order ships Amazon will send you an email indicating the date the order is expected to arrive as well as tracking information.
An order follow-up - After your order has arrived, Amazon typically sends an email asking your to rate your purchase.
If you're a field service business, it's in your best interest to send transactional emails, much like Amazon does. And, if you're a HindSite user, you're in luck, because we just released a service business marketing add-on to our product, HindSite Connect, that enables you to do just that.

As a result, we're recommending that at the very least you send the following three emails:
Appointment Confirmation Email - In our typical customer's workflow, a customer will call to schedule an appointment for service. Similar to Amazon's order confirmation, we recommend sending an email immediately after the appointment has been scheduled with pertinent information like the date/time of the order, the service to be performed, and any additional information the customer needs to receive to prepare for the service.

Appointment Reminder Email - Next, we recommend sending an email a day or two before the scheduled appointment as a reminder. Again, much like the confirmation email, tell the customer when and what will occur and any other pertinent information.

Service Completion Notification - The last transactional email we recommend is the service completion notification. This email is sent immediately after the service is performed and indicates when the work was completed, any additional findings during the course of the service, and any additional follow-up items that need to be addressed.
So you've decided to take the plunge and send transactional emails to your customers (hopefully using HindSite Connect!). What do you need to consider when doing so?
Communicate this change to your customers. The first thing you need to do is inform your customers that you will begin sending transactional emails as part of your service. Ultimately, this is a positive step. Your customers will be more informed about the specifics of their service. It also helps prod them to give you their email address so you can send these emails to them. (For more tips on getting customer email addresses, click here).

Let customers opt-out. According to interpretations of the CAN-SPAM Act, sending a transactional email to a customer is not spam. You have a business relationship with them, and you are informing them about an upcoming appointment. I can't speak to other countries, but at least in the U.S., you don't need to have them opt-in to your email program for any legal reason.

But you should let them opt out. Not everyone wants to get an email from you. If your customer doesn't, let them know that they can opt-out of the transactional email program if they like. Give them a means to do so in both your initial communication of the program as well as on every email you send. You don't want to lose a customer over a transactional email.

Be specific in your emails. A simple "Hey, we'll be there Tuesday." is good, but delivering a time range, information about the service you're performing and anything else your customers need to know is much better.

Which is one of the things that HindSite Connect can help you accomplish. Our templating system means you can create specific templates for specific services, allowing you send service-specific information before and after the service. Plus, you can include information from HindSite - like the specific time you completed and notes from your field personnel - to truly create a custom, specific email.
So you're ready to start sending transactional emails? Then don't forget to download our latest eBook, The 15 Emails Your Service Business Should Send, to learn what emails to send, who you should send them to, and what information to include.