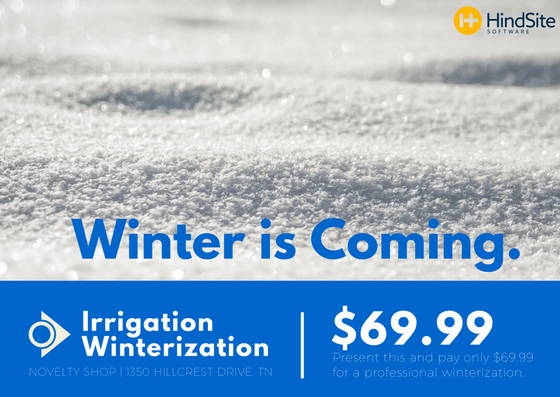 Apple recently revealed their latest and greatest products - a new large screen iPad, a new phone with "pressure touch" and a pencil that takes advantage of their new touchscreens. If you look at the tech itself that was released, it's not exactly cutting edge. Many other manufacturers create technologically superior hardware. By most objective measures, Android is a better software platform. Yet Apple will most likely sell boatloads of their products and make great gobs of money.
Why? In a lot of ways, it's because they understand design. They make products that - though maybe not as functional - are beautiful to look at and easy to use. Their products are as much a fashion accessory as they are technology.
Design matters. Whether you're selling advanced technology like smartphones or trying to sell your irrigation business, buyers are attracted to well-designed products and services.
But if you own a small green industry business, you probably can't afford to hire a graphic designer to design everything. They aren't cheap. Sure, you could use alternatives like 99Designs, but that still takes time and money.
But with modern, web-based tools like the stock photo site Pixabay and the web-based graphic design solution Canva, creating great-looking graphics is quick and painless. Most importantly, it's free. Here are some tips to help you get started creating great graphics for your green industry business with Pixabay and Canva, using a simple postcard for a green industry business.
Determine Your Message
The first step to creating a great postcard is to determine your message. What do you want to communicate to your audience? In this example, I'll assume I work for an irrigation service and install business and I'm looking to promote a new $69.99 winterization offer to a neighborhood near me.

I've decided to go with a "Winter is Coming" message inspired by Game of Thrones. And I want to prominently feature my price, because $69.99 is a market-leading price.
Download a Unique Picture from Pixabay
Next, I want to find a suitable image for my message. You could use a stock image site like iStockphoto or Stocksy to buy a photo, but Pixabay is also a great choice. You'll have a much more limited selection and the photos may not be as great, but if you think creatively and search well, you can find some great photos on Pixabay.
You can create an account at Pixabay, which eliminates the need to complete a captcha every time you download an image. Once logged in, do a search. One word of caution: The first row of images are typically not Pixabay images, but instead images from a pay site, Shutterstock. Ignore those, and look for a picture that matches your message.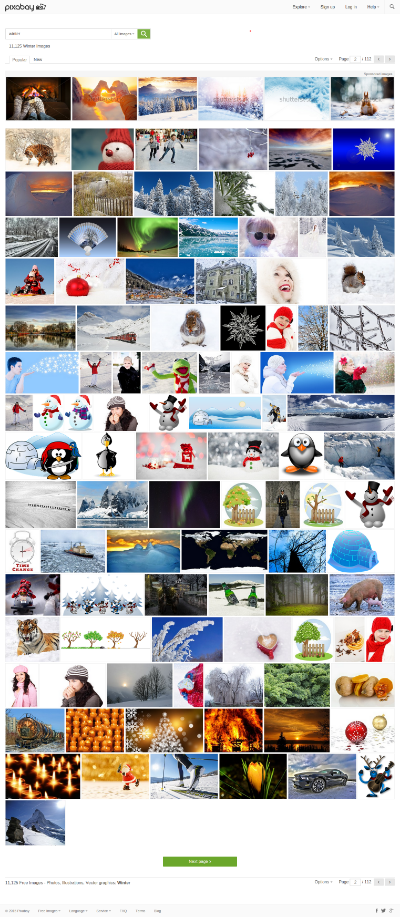 If you can, try to find something distinctive that matches your brand identity. In this example, I've chosen this image.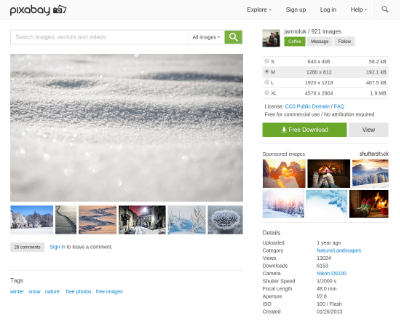 Click the Download button and save the image to your computer. Usually, for a postcard, I'd use the highest resolution image available to ensure the best quality. Note: You'll need a Pixabay account to download the highest resolution image.
Create the Postcard in Canva
Now it's time to fire up Canva. Canva is a great tool for creating graphics because it uses templates for just about anything. Blog posts. Social media posts. Postcards. Book covers. And they all use graphic best practices so you get beautiful graphics that look like they were designed by a professional.
First, we'll choose postcard as the type of design we wish to create.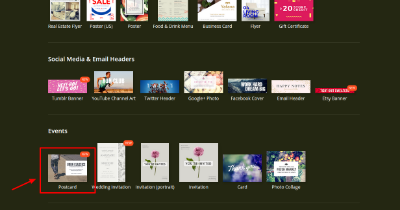 Next, we'll select from one of the great Canva designs. I really like the graphics/design on this one for this postcard because it includes an image, a space for a promotional message and some space for an offer. Note that Canva has an "infinite" scroll, so if you use the left scroll bar, it will keep displaying new designs.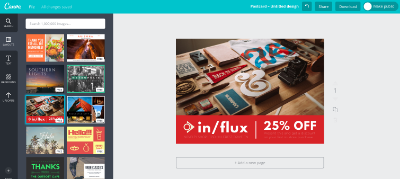 Next, I want to eliminate the image because I'm going to use the image I downloaded from Pixabay. I'll click on the background and hit delete.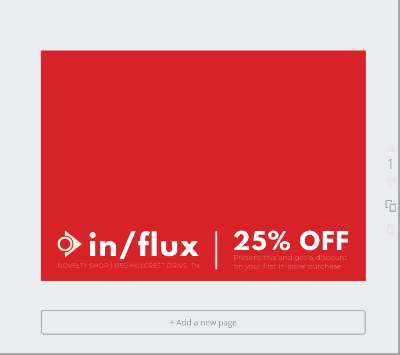 Now I want to add the image I downloaded from Pixabay. To do that, I click on the Upload button on the left, then click "upload your own images." Then, find the image I want to upload, and upload it. You'll now have access to that image from within Canva.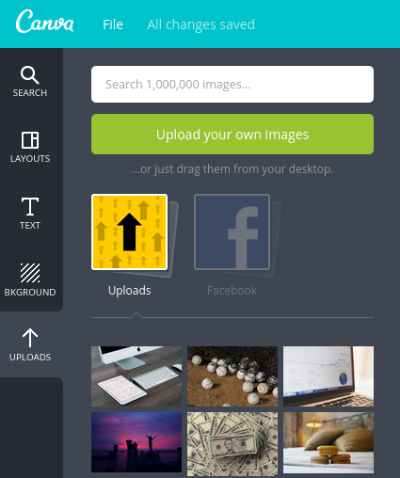 Next, click on the image you uploaded to add it to your design. You may need to resize and move it to get it where you want it.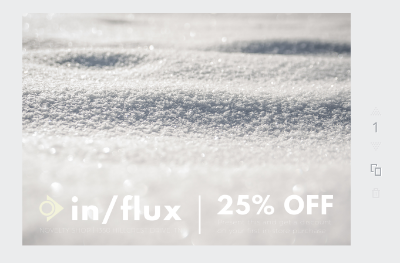 Next, I'm going to put a color block behind the text so it stands out. To do that, click on the Search button on the left, select Shapes, and select a square. Then, resize it to fit your postcard. Make sure the color aligns with your brand colors.
Finally, I'll modify the text. To do that, simply click on it and modify.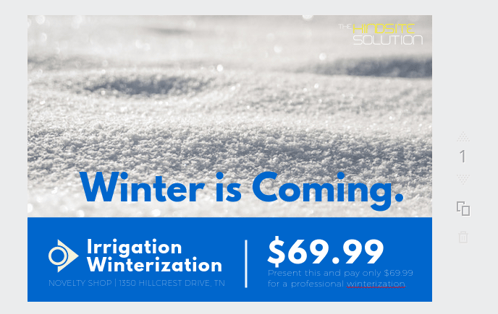 There you have it - a good looking postcard for your winterization offer that you can create yourself in about five minutes. To download it, simply click the download button and choose either a lower quality web version, or a high quality version for printing.
I won't go into this here, but you can easily follow the same process to create the back of the postcard. Keep in mind, though, that when you print the postcard, you'll want to leave room for a mailing label and and stamp. Also, remember that the post office may slap a label or otherwise mark your postcards with a barcode on the bottom, so you'll want to leave space for that.
Speaking of printing, a great resource for relatively inexpensive postcard printing is Uprinting.com. Usually, you'll have your postcards within a week or two of your order and they'll be relatively inexpensive. The quality is typically pretty good, too.
Want more marketing tips for your green industry business? Check out our free eBook, 15 Sales and Marketing Tips Guaranteed to Grow Your Green Industry Business, today!