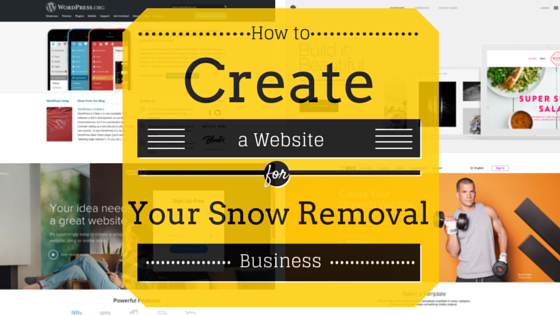 One of the most surprising results of our recent 2015 Snow Industry Benchmark Report was how few snow removal businesses have a website. Last I checked, it's 2015. Consumers, especially younger ones start their search for service providers online. If you don't have a web presence, you're missing out on a lot of traffic.
You need a website. But if you're like most snow removal businesses, you probably don't have the money to hire a professional to create a website. You also may not have the in-house expertise to create your own from scratch.
Luckily, it's 2015 and a number of solutions have entered the fray that make building a business website drag-and-drop simple. Here are four options that will help you create a great website for your snow removal business:
Wix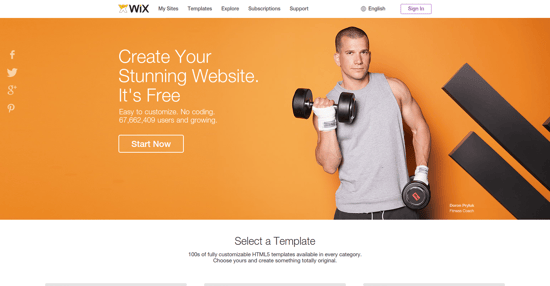 Wix's main claim to fame is the ability to quickly create a website using one of their several hundred templates. In fact, they have more than 500 templates available, which makes creating a professional-looking website quick and easy.
Want to add content and other elements to your website? That's not a problem with Wix. Their drag and drop builder makes it easy to add content to your website.

Support is also reportedly strong for Wix users. In addition to traditional phone/email support, Wix's knowledgebase and forums deliver instant access to training and support resources. Plus, depending on the plan you select, you can bring your own domain name to Wix, or go through Wix to purchase a domain, which is free for the first year.
There are some negatives to Wix, however. They do offer a "free" tier, but it includes ads. So you'll need to pay anywhere from $10-$25 a month (depending on what options/support you desire) for an ad-free version. Plus, their templates aren't technically mobile responsive, meaning the same site will "respond" to whatever screen it's displayed on. Instead, you have to create a separate mobile website. In today's mobile world, responsive design is fast becoming the norm.
To learn more, visit www.wix.com.
Squarespace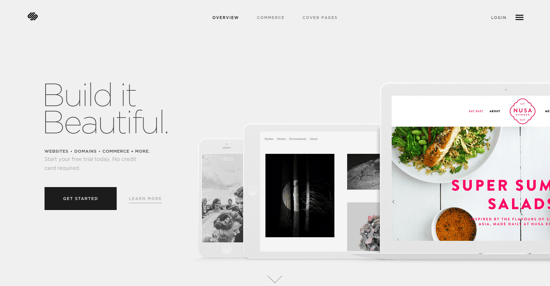 The marketer in me is a big fan of Squarespace. They have some of the most beautiful templates I've ever seen. Plus, they're responsive, meaning the display beautifully on any device, from desktop, to tablet to mobile. If you want a professional website, you need to take a look at Squarespace.
Like Wix, Squarespace offers drag-and-drop simplicity. However, they also make just about every page element highly configurable, which can lead to confusion and complexity if you don't know how to configure Squarespace.
As far as negatives, styling Squarespace sites can be a little difficult for the average Joe. Plus, I've heard that their drag-and-drop editor can be a little buggy at times, making it difficult to get the exact look you want.
Much like Wix, Squarespace pricing varies depending on what you need, but typically runs from $8 to $24 a month.
To learn more, visit www.Squarespace.com.
Weebly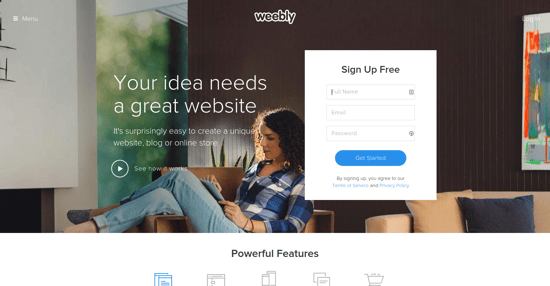 If you don't need any frills, Weebly isn't a bad choice. They may just offer the easiest drag-and-drop editor out there. That ease of use means you probably won't need much support, but if you do they do offer email and phone support.
Weebly may not have the professional grade templates of a Squarespace or the vast number of templates of Wix, but they do have a number of templates available to get you started. They do create a mobile version of your website, though it's not truly a responsive website. Plus, if you know your way around HTML and CSS, Weebly grants you access to the code, for vitually limitless configurability, albeit assuming you have the knowledge to take advantage of CSS and HTML.

On the downside, Weebly's simplicity means it's not going to be as configurable as Squarespace. Their templates also tend to be less impressive. But at a price range of $8 to $25 a month, Weebly is certainly an inexpensive, viable option.
To learn more, visit www.weebly.com
Wordpress + Web Host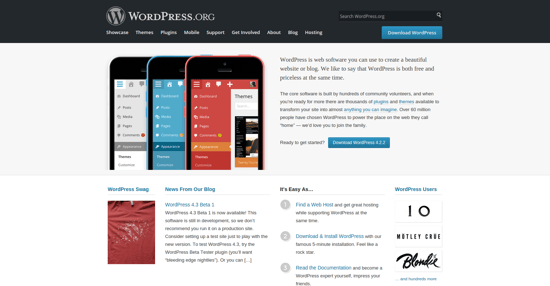 One final option is to install Wordpress on your own web host. Originally designed as a blogging platform, Wordpress has come a long way, and now is robust enough to help you run a fully-functional business website.
One of the great things about Wordpress is the community. There are thousands of plugins out there that add functionality that the other options we've discussed just can't match. Everything from SEO to social media plugins can make it easy for you to optimize your site for search and enable easy sharing to social media. Plus, there's a plethora of themes - both paid and free - that can help you develop a great website for your business.
The downside to Wordpress is that all those plugins and themes can be more difficult to install and use. Plus, though many web hosts pre-configure Wordpress for you, setup can be more laborious than the other hosted solutions highlighted above. Though Wordpress' guided install is drop-dead simple, if any errors occur, you're pretty much on your own.

Wordpress itself costs nothing, though you'll need a web host (which costs anywhere from $10-$30 a month, depending on the host) and a domain name in order to use Wordpress. But for those that want to build and own their own site, Wordpress is a good alternative.
To learn more, visit www.wordpress.org.