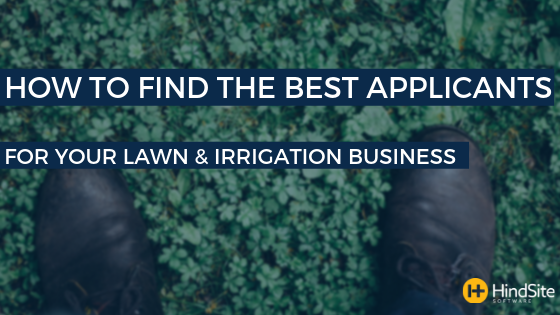 As you prepare for your upcoming season, you know that some of your seasonal hires won't be back this summer. Where will the rest of the team come from? The Green Industry's labor shortage has been well-documented. This year's Green Industry Benchmark Report revealed 92% of businesses have a hard time finding quality employees. And this challenge has been on the rise for a handful of years.
So how do you hire in 2019? My dad and I were hanging out at the Final Four this weekend that was here in Minneapolis. Randomly we got on the topic of how the hiring process has drastically changed, not just from when he first started working (1980's) but even within the last 15 to 20 years.
To land his first job, he had to mail his resume and cover letter to a bunch of companies located in a bunch of cities. That process involved a lot of physical steps, from looking up the companies to printing the documents to inserting them into a mail slot. Now a few years ago, when I was applying out of college, I basically just had to sit at computer, click a stupid mouse a bunch of times and apply to as many jobs I wanted to. Or, even easier, while sitting on my couch watching Game of Thrones, I could whip out my phone and apply to as many jobs I could find.
Times have changed and with it comes plenty of efficient ways to help your hiring process. From old school referrals to new age job postings, below are a few ways to find the best applicants for your business.
I've talked to a number of green industry business owners who claim Craigslist is a great applicant source. This online posting site for everything you want to buy, sell, trade, rent, also includes great job postings. You post your job need, what you are looking for, what you pay and how to contact you and the applicant does the rest. This can be very effective for finding talented and dedicated employees. Craigslist used to be free but now it's going to cost you. The price varies from $10 (for smaller cities) to $75 (for San Francisco) per job post.
Once you have your posting ready for Craigslist, use this for the other main job posting sites, like Indeed. This site receive millions of hits per day and many job seekers will get daily emails for the types of job and location they are looking to find. You only pay for the views your job ad generates and daily budgets can be set to as low as $0.10 per day. They also offer sponsored ads that promotes your job posting and help it gain some visibility.
With over 500 million users worldwide, this extensive networking site is used by a ton of people looking for jobs and businesses looking for employees. LinkedIn charges $495 for a 30-day job posting. This may be well worth the investment if you get solid leads from this posting. And, don't be afraid to post to LinkedIn Groups that your target applicants might frequent.
Your Website
Be proud that you are hiring and post the job on your website. This is a sign of growth and prosperity. Let everyone know that visits your website. People that may have been with you a few years back, can easily find you on the web and reach out if they know you are seeking employees. Even if you don't have any open positions at the moment, getting applications and reaching out when you are ready to hire will save you time when the need arises.
Referrals
You probably use referrals. Everybody does. If you don't, you probably should start using referrals. It's a pretty natural and human way to find employees from people who already work for you. People like to work with friends so this is an excellent way for you to get your team filled out. Be sure to offer an incentive to your employees that bring you referrals that you hire. This will lead to higher employee satisfaction.
One of my buddies works for a company and their referral program is incentivized in stages. They kind of have a high turnover in some positions so if the referred employee works for 45 days the employee receive $100. If the referred employee works for 6 months they receive $750 and if the employee is still employed after 2 years, the bonus was $5000. Bonkers, right? That's some serious cheddar to pay out but if there's high turnover, a reliable and tenured hire can be worth it. This is a little steep for most hiring budgets, but the point is that long-term incentives can be very valuable so consider a tiered approach.