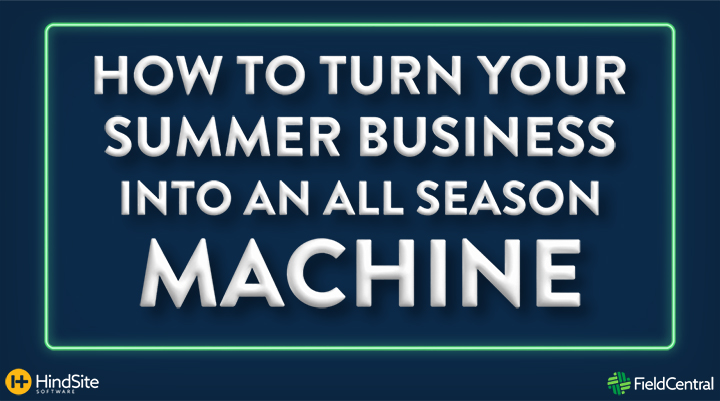 When you own a seasonal business, there are plenty of unique challenges you can expect to face. The most obvious challenge is maintaining a successful business during the off season. Just because you aren't bringing in steady revenue year-round doesn't mean you can't work on other aspects of your business to make your busy season the best it can be.
If you're stuck on what to do now that the busiest time of year is over for your business, look no further. Follow these steps to ensure you use your off time wisely:
Keep Your Business Top Of Mind
The connection you have with your clients is the most important aspect of your business. The way you build and maintain this relationship is something that continues beyond the busy season and expands into year-round communication.
There are plenty of ways that you can keep in touch with your clientele throughout the year; from mailing postcards to sending occasional emails, or even a personal phone call to all of your clients wishing them well. It's the small, thoughtful things that will make your business truly stand out and create a strong reputation among new and existing clients.
This is a great opportunity to utilize any existing tools or subscriptions you may currently use for your business. If you have already invested in our Field Central communication tool, you can use this to reach out to existing customers as well as help keep your business top of mind during the off season.
The messages you send to your customers don't necessarily have to be aimed toward making a sale. Instead, you can provide tips to customers on how to care for their seasonal services year-round. For lawn care businesses, you can provide information on how to care for your landscaping over the winter in order to have a beautiful lawn and garden once spring arrives.
In addition, wishing your customers well over the holidays or even sending out birthday messages to customers are all simple ways to delight your clients when you cannot provide regular services.
Be Strategic With Finances
The off season can be particularly challenging when it comes to finances. Without a regular stream of income, it can be difficult to make ends meet. During this time, you need to be as strategic as possible with your spending in order to see the greatest return on your investments.
During this time, evaluate your current expenses and funding options to determine if there are any bills that you could cut back on or eliminate for the time being. This can include your active marketing and advertising efforts. You can take a break from ad spending, seeing as these efforts are better spent closer to the start of your business season, and instead use that budget to sustain other areas of your business.
Take this time to assess your debts and consider how to better manage your bill amounts over the off season. Consolidating debts can help make monthly payments less stressful, and even save you money in the long run with lower interest rates. For a seasonal business, saving money any way you can is essential in both the off season and year-round.
Finally, utilize the tools you already own or have factored into your budget to your advantage. These come at no additional cost and can be used to propel your business forward. From communication tools to equipment and computer software, you can spend time refining the items you already have to ensure a strong and efficient business season in the future.
Make Use Of Downtime
Rarely do businesses have a period of downtime that they can use to reflect on the previous business season and prepare for the following year. Typically, business owners have to keep making observations and adjustments on the fly and don't necessarily have the time to dig into issues and resolve any deep-routed setbacks.
As a seasonal business owner, use this time to your advantage to ensure that each business season is as efficient and profitable as possible. Any additional time can be spent brainstorming and evolving your business to become its absolute best year after year.
For example, evaluate your scheduling efficiency. Will you be able to take on more clientele the following year by tightening up your workflow and time spent performing services? Maybe you need to hire a few more employees to keep up with an increased demand for your services. Alternatively, you may find that you don't need as much equipment as you currently possess, so consider selling extra inventory to help boost your bottom line.
Lastly, take this time to revisit your business plan and strategy. Making updates to your initial business plan is essential for any business, and you have the unique advantage of downtime to really take your time with your plans.
While seasonal businesses have their own unique challenges, they come with some hidden advantages as well. This winter, spend time being strategic with your business operations to ensure a successful busy season for years to come.