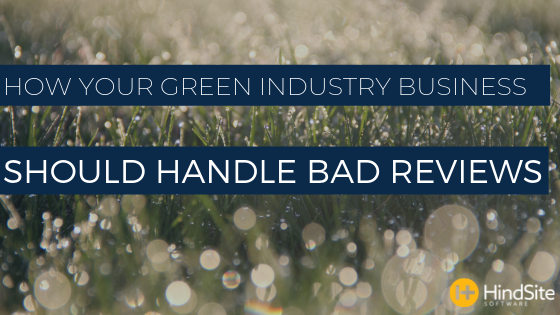 If you've ever been in a situation where your irrigation or lawn care business is dealing with a scathing online review, you know it isn't fun. And they aren't simply words living on a site like Yelp or or Angie's List, they can be a real threat to your business. Even if you know for a fact, the customer that is reviewing you is in the wrong, that might not be apparent to other people.
From the customer's perspective, there are times when a negative review is warranted, and you should be able to understand that. Maybe the tech showed up a few hours late without notification, or the crew that came to mow their property left a huge mess. Whatever the reason is, as a business owner you have the duty to resolve the issue so you don't lose any more business.
Here are six methods to handling negative reviews about your green industry business.
Respond quickly
If a customer leaves a negative review, do your best to respond promptly. You need to show that their review was acknowledged by someone from the company. Don't try to argue your case here, rather, see if you can open up a discussion with the person away from the site or social media outlet that they reviewed you on.
Offer up your contact info and see if they would be willing to talk. This will do two things: it will take the conversation away from the original review which prevents further damage, and it will allow you to get and give as much information as possible. You might be able to resolve the issue with some simple clarification.
Don't get emotional
Take a breath before you do anything that could further harm your business. If you feel like the customer that is reviewing you is being irrational or are completely in the wrong, you still need to act professionally. After you've acknowledged the review with a reply, take a little time to come up with the right response. The last thing that you want is for this customer to take their review to other sites or to try and launch a social media attack on your business, which does happen often.
Request removal
Most sites won't allow you to take reviews down at any point in time just because you don't like them. But if the review is slanderous,contains profanity or is just false, you are able to request that the site takes the review down. If you notice that a review doesn't meet the company's policies, you can point that out and request it be removed.
Ask for reviews from your best customers
The best defense is a good offense! Be proactive about building up your positive reviews, so then when a negative one is posted, the damage isn't as severe. When you have a higher positive-negative review ratio, potential customers who are reading reviews aren't going to think too much about it.
Monitor reviews regularly
Another way to handle negative reviews for your business is by getting in front of them. You should monitor review sites regularly to make sure that nothing is slipping through the cracks. Bookmark all the review sites like Yelp and Angie's List and make sure that you've claimed your listing. This will allow you to interact with reviews as the the business.
Learn from them
If you've received multiple negative reviews about your business that have similar themes, there might be a reason. Maybe your crews did leave a mess, maybe your service tech screwed something up and has done it on other jobs as well. You need to take reviews seriously and look into each case.