This is part two of a three part series on our 2020 Green Industry Benchmark Report. Read part one here.
4. Consider the Cloud
I work remotely - all the time recently - and what I've learned over time is that cloud software makes me much more productive. For example, I used Adobe tools quite a bit. When I started working remotely, I would carry a USB stick with me wherever I went and save it to that disk. Which worked great...until I forgot to bring the USB stick home. On deadline, that's not fun. I soon learned to save files to Google Drive, a cloud storage solution.

Notes were also an issue. I take a lot of notes in meetings and used to do that on paper. But if I left my notebook at work or at home, all that notetaking is useless. Since I've switched to using my phone to take notes using Google Keep, all my notes are a few taps on my phone or a visit to a website away. Throw in that they're also searchable and it's light years better.

As we found in the Green Industry Benchmark Report, turning to cloud software is becoming more and more popular, with QuckBooks Online growing steadily over the past couple of years. This year, 30% of respondents indicated they use QuickBooks online as their accounting platform, up 8% from two years ago. Of the green industry businesses that use QuickBooks, about 41% are using QuickBooks Online. I would expect that to be near 50% next year.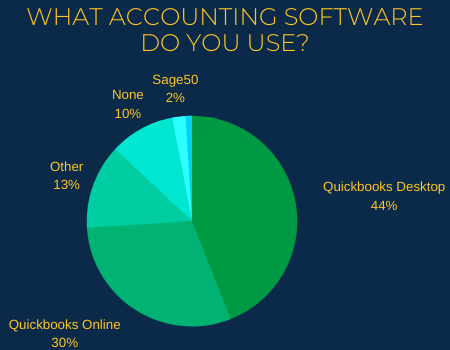 Why would you want to move to cloud software? Because you're not tied to a desktop. Which is especially important during a pandemic - you need to be able to work wherever you are. As long as you have Internet access you'll be able to

If you're making the move to cloud software, some things to consider.

2. Uptime - Basically uptime is the percentage of time a cloud software solution is available. A lot of cloud software companies will make guarantees around uptime being a certain number - usually in the high 90% range - or will refund customers a percentage of their bill. In the green industry, none of the cloud software solutions I'm aware of that offer an uptime guarantee, but if you're buying, I'd ask what their uptime was last month or last year.

2. Data security - Data security is another important consideration. Generally speaking, cloud software can be more secure than network software because it's actively monitored and security updates can be applied across the platform to all users with ease. That said, you'll want to ask where your data will physically reside - where the server is, how access to your data is controlled so that only authorized users can access it, what actions are taken if a security breach is identified, if there's an API and how access is protected, and what the disaster recovery plan looks like.

3. Redundancy - Hard drives fail. Server farms lose power. So you'll want to ask your provider what kind of backup solution they have in place. How frequently are backups performed? Are the backups stored offsite in a secure location?

4. Data migration support - Finally, you'll want to know how easy it is to get your data in and out of the system. Especially if you discontinue using the product, you'll want to know that you can get your data out. I'd be sure to ask if you can get all your data out of the system and what kind of file format the data is.



5. Think Local (Marketing)
When Nike wanted to improve the visibility of their products in London, they tasked their ad agency, Wieden + Kennedy with making it happen. They launched a video campaign with ads that showed what it was like being a young sportsperson in London. They shot videos for 258 London athletes and then had them each share that video to Instagram.
The results were tangible - searches for Nike products rose 93% across London after the ads were released. By creating a local advertising campaign featuring local athletes, Nike was able to see a lift in visibility in that local area. What Nike accomplished is exactly what the typical green industry businesses is looking to accomplish: The vast majority of green industry businesses have a small, local footprint and want to engage a local audience.
According to the 2020 Green Industry Benchmark Report, that local footprint ties into the marketing tactics that the typical green industry business. For the most part, aside from referrals, green businesses are relying on their website, branded trucks and social media to generate new business. Those tactics tend to be fairly local. For example, a green industry business that wants to drive web traffic will leverage keywords that have those locales they're targeting in them. Broader terms won't really do them any good from a sales perspective since they won't be able to mow a lawn in California if they're based in Minnesota.
When designing any kind of marketing campaign for your business, you need to think local to maximize your marketing spend. Here are some ways to do that:

1. Know your target buyer. The better you know your buyer, the more likely you are to be able to find what they like, where they hang out and what motivates them to buy services like yours. That will help you find more people like your target buyer and help build better marketing messages that will resonate with them. You probably innately know your target buyer just through your interactions with your customers. So jot down their demographic characteristics and consider surveying your customers to learn more about them. You'll be surprised by what you don't know - and how that information will help you sell more effectively to prospects.
2. Leverage tactics that help you target those buyers. You don't want to take out Google Ads on keywords that won't attract those buyers. So leverage the data you learned about your target buyer to be very targeted in your messaging. If you find out that they hang out at golf courses a lot, see what kind of marketing and advertising opportunities are available at some of the golf courses nearby. Understanding their behavior will help you maximize the ROI on your marketing spend.
3. Measure everything. Make sure you measure where every single lead your business generates came from and what the close rate is by each lead source. You may find that you got a ton of leads from an online ad, but you got more sales from a billboard because they closed at a much higher rate. There are a number of CRMs out there that can help you track this information and our software also has tools integrated into it that helps you track every lead and estimate and see the actual revenue that resulted from those leads and sales.
4. Do more of what works. It's important to measure your results so you can identify which strategies and tactics are most successful and then invest more money in those tactics.
And some additional tactics to try:
Make sure your Google My Business listing is accurate.
Create local content - like guides to local events or locations - that will drive traffic to your site
Create Google Ads with radius targeting
Create "Service Area" hubs on your website to target specific cities
Sponsor events in your community to build brand awareness.
6. Plan for Everything
Bill Belichick is widely known as one the best NFL football coaches of all time. And it's because he's so adept at out-strategizing the opponent. Case in point: In Super Bowl LIII against the Rams, he ran a 6-man front to stop the Rams zone running plays. Six-man fronts are rare in the NFL - you usually only see them at the high school level. But Belichick is well-known at taking away the offense's best weapon. In this case, he wanted to stop the Rams from running the ball, because their entire offense was predicated on being able to run. Once they started to run their zone rushing attack effectively, they were able to fake the run and gouge defenses through the air.

But not only did he put together a great game plan to stop the run, he also adjusted on the fly when the game was on the line. With the Pats and Rams locked in a defensive struggle and tied 3-3 early in the fourth quarter, the Patriots need a game-winning drive. And they got one, thanks to implementing a series of plays from a formation they'd never practiced before. They went with what's called a heavy package - 2 TEs, 2 RBs and 1 WR - yet threw a couple passes out of that formation, which is traditionally a run formation. Why? Because they'd noticed throughout the game that their heavy players - including future Hall of Fame TE Rob Gronkowski - had favorable matchups against the linebackers the Rams brought in against that formation.


Why am I telling you this? Because that's my next lesson: You need to plan for everything. As I mentioned earlier, many green industry businesses had plans to grow both their revenue and their staff this year. That could very well be down the drain and businesses that aren't operating efficiently may even find themselves in a place where they have to shut down.
The bottom line: A lot of businesses are scrambling right now because they didn't have a plan to address the COVID-19 pandemic. Not that anyone could have foreseen this coming, but having a more general disaster recovery plan in place could have made it easier to modify and execute a business plan in the face of considerable adversity. Here's what you should include in your disaster recovery plan:
A communication plan - The first step to retaining your customers and employees is to have a detailed communication plan. In case of a disaster that shuts down your business, you'll want to overcommunicate the status of your business. Ensure that both the methods of communication (email, phone, social media, etc.) and the message you plan to communicate are clear and that someone in your business owns those communications.
A data plan - Even if you aren't using any software to run your business, your business has a lot of valuable data that you want to save and, preferably, backup. If you are using software, your plan should include your backup procedures - including how frequently you backup, where you backup and how to restore any data that you have so you can operate from a new location should your primary office or location be compromised.
An inventory of your assets - Most disasters damage your assets so it's good to have an inventory of all the assets your business owns - preferably with photos. That will give you a quick reference for insurance claims and make it a lot easier to get back up to speed again with the same or similar equipment.
Service restoration plan - When the emergency ends, you want to be able to restore your business as quickly as possible. That includes being in constant communication with your vendors so you can get the materials and parts you need as soon as they're available. It should also include employee communication protocols, customer communication protocols as well as a plan to get your employees and customers scheduled.
Having a disaster preparedness plan isn't going to help you identify every issue you need to resolve in case your state or the federal government issues a shelter at home edict, but it will help provide general guidance should you have to discontinue service for any period of time.