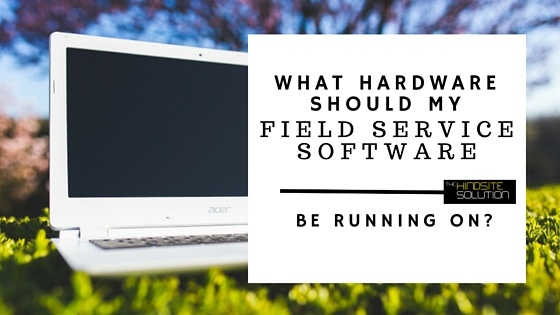 By Taylor Tuomie
So you bought new software for your landscaping, irrigation, lawn maintenance, or snow plowing business. You've got it all ready for your service techs to use in the field and your office is ready to start reaping the benefits of the new system. Say goodbye to all the headaches that the paperwork caused in the past!
But what are you running the shiny, new solution on? What is the best hardware for your field service software?
In The Field
---
Tablets
One of the reasons field service software is so helpful is that your employees in the field are able to enter useful information into your system. It eliminates the need for paperwork for your techs. While your software might be able to run on a smartphone (our software, HindSite, will run on a phone), we recommend using tablets.
Not only are tablets easier to work on because of their larger screen size, we have found that tablets don't get broken as often as smartphones. The reason being is that they are normally too large to fit in any pocket, so they stay in the truck. Simple enough, right?
(Most of our customers use Samsung Tablets, but there are hundreds of choices on the market. It's just important to make sure that what you choose has enough "horsepower" to run your software!)
Protection
There are plenty of cases on the market for tablets and smartphones, but think about the use of your mobile devices, and how expensive they are! You need to make sure you are protecting your devices from the demands of your line of work.
We suggest some type of rugged case. Our customers seem to be using OtterBox cases the most. They have cases for virtually every smartphone and tablet on the market and their warranty isn't too shabby either!
Charging
Most trucks will have some type of power supply that you can plug into to power your tablet up when you're driving, but having a power supply while your truck isn't running might be a different story.
One nice piece of hardware that we would recommend is a solar powered battery pack, like this one. It is nice to have on hand in case one of your techs forgot to charge their tablet the night before or if they are just running out of juice while still on the job. Not all vehicles will continue charging your device if it isn't running, so having one of these can be very helpful.
In the office
---
PCs
If you're using a field service software, your techs in the field will be inputting data to their mobile devices. You'll need someone in the office managing that data. The office manager or whoever is in charge of scheduling, dispatching and billing will have to use hardware that is more robust than their field techs. While you might be able to run your software on a laptop or even another tablet, it is best to have something with a bit more computing power.
We suggest a desktop running Windows. There are plenty to choose from, but keep the minimum requirements of the software you choose in mind.
Monitors
Having more than one monitor when working with your field service software is really, REALLY nice. Changing around your field tech's schedules is easier to do when you have a dual monitor setup. Your office manager will thank you for this.
Backup
Ok… so this one might be software or hardware. But no matter what, you'll want to make sure you are using a backup solution for your field service software. You don't want to walk into work one morning and find that you lost half your contacts out of your CRM or worse, you don't want to be the one responsible for a "fat finger" mistake and be the one that accidentally wipes out your entire system. Don't think that can happen? I was just talking with a co-worker about how Toy Story 2 was completely deleted on accident, but one person on the animation team had it backed up!
Most of our customers use a cloud backup solution called Carbonite. Since you're handling information that is vital to your business, it is a good idea to backup data regularly.
---
Got the software and the hardware, but want a few more tips on running a successful service business? Download our free eBook below!