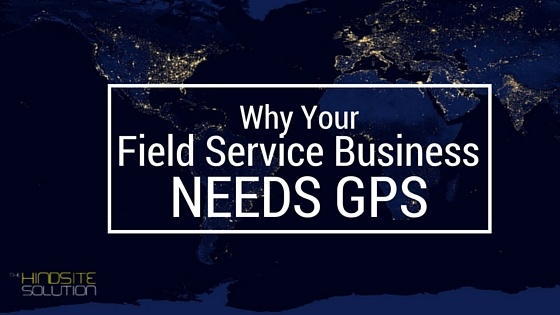 By Taylor Tuomie
GPS has become a buzzword among field service businesses. Odds are that you either already have a GPS solution or you have looked into one. GPS has evolved immensely over the years. Initially, it was exclusively for government use, it has grown into a service that people can use in their every day lives.
We recently published an eBook that details the history, the different types of GPS solutions field service industries can utilize and also questions that you should ask before buying a GPS solution for your field service business. Here are a few of the highlights from our eBook:
GPS History
Essentially, GPS is the byproduct of tracking the U.S.S.R. satellite, Sputnik. The very first man-made, earth-orbiting satellite transmitted radio pulses that could be heard by anyone on the ground with a shortwave receiver. Scientists were able to calculate Sputnik's orbit by measuring its Doppler effect.
Today, there are 24 orbiting satellites that orbit earth twice a day and GPS is now accurate within a few centimeters.
1 in 4 Green Industry Businesses use GPS
GPS isn't new to field services industries, however it hasn't been widely adopted yet. From our Green Industry Benchmark Report, we found that the 25% of business owners that we surveyed chose to implement a GPS solution for their field service business because they have seen their overall efficiency improve.
Accountability
One of the biggest reasons field service businesses use a GPS tracking solution is for accountability. In our eBook, we wrote about a large irrigation company that installed GPS devices in all of their trucks without their crews' knowledge. The day after installing the devices, the owner found that his crews were taking a longer break in their work than he knew about.
Most devices and/or software will send out alerts for bad driving, speeding and even location alerts if a truck or connected device crosses a geo-fence.
Necessary for Contracts
9% of snow removal business owners that we surveyed for our annual Snow Industry Benchmark Report stated that GPS is now required to validate they completed a job. This number grew from last year and we expect it to grow in years to come as well.
Additionally, GPS protects your assets as a business owner as well because it is factual proof that your crew/truck/vehicle was at a given location at a specific time. So if you were to be sued for a slip and fall claim because the property you are contracted on doesn't believe you plowed, you are able to prove you were onsite.
Truck vs. Phone
There are two primary types of GPS solutions that field service businesses use: a device connected to their trucks or a smartphone app. While they both share many key functions, such as speed, direction, location history and custom alerts, they are also different in many ways.
For instance, a truck based solution can provide engine information such as runtime, idle, hard braking activity and also engine diagnostics.
Questions buyers should ask
In our eBook, we provide some important questions that anyone considering buying a GPS solution should ask. Here are a few that we suggest asking:
Does the solution integrate with other software programs that I'm using for my business?

If I buy a truck based solution, do I need to have the GPS unit professionally installed?

What are my upfront costs and what are my ongoing costs?

How much time can I expect to spend learning to use the new system?

Can I access information about my GPS enabled trucks anywhere?
---
While GPS has grown in popularity among field service businesses over the past few years, it isn't until it is paired with a management software that is becomes a valuable business solution. We released our GPS solution, called HindSite Tracker, earlier this month. It integrates seamlessly with our field service software and gives you visibility of your team and will save you time and money.
If you want to learn more about how GPS can help grow your business, download our eBook, GPS and the Green Industry. Just click the link below!