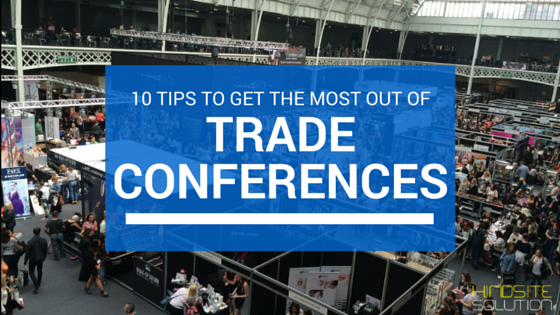 We're exhibiting at the Snow and Ice Management Association's (SIMA) Snow and Ice Symposium tomorrow and Friday. It's a great show for us because we get to meet and talk with snow contractors and show them how our snow removal software can make them more efficient.
But trade conferences also offer a great opportunity for contractors to learn how to grow and improve their businesses. According to our recent Green Industry Benchmark Report, just 10% of those who saw revenue growth in excess of 20% didn't attend a trade show in the past year, compared to 15% of those whose revenue stayed the same or declined. So there appears to be some correlation between attending trade conferences and revenue growth.

With that in mind, here are some tips to conquer your next trade conference:
Have a plan.
If you want to get the most out of your next trade show, make sure you show up prepared. Most conferences will release an Android/iOS app that includes all the information you need to have a successful educational event. Download it before the event to familiarize yourself with the sessions, the vendors and the floor plan.

Many large, national trade conferences have multiple sessions occurring at the same time. Make sure you know which one you plan to attend before the day of the show so you're not wasting time trying to find the session you would like to attend.
Bring comfortable shoes.
One pair is great, but if you have two pairs of comfortable shoes, bring them! You'll be doing a lot of walking. I attend HubSpot's Inbound marketing conference every year and I've logged as many as 6 miles in one day walking the conference. If I'm not wearing comfortable shoes, it makes for a very long day.
Talk to vendors.
Trade shows are a great way to talk to vendors. As a field service software vendor who typically sells over the phone, we love getting out to trade shows to talk to customers and prospects alike. Come prepared with a list of vendors you want to talk to, talk to them, and then walk the floor and see if anyone else stands out, and go talk to them.
Get some swag.
Who doesn't like free stuff? One of the great things about trade shows is the free swag you can get from vendors. Grab as much of it as you can! We've given away pens, bottle openers, and Android tablets at past events, and we have one of the smallest swag budgets around. So grab what you can, register for giveaways and just generally go nuts for the swag.
Attend educational sessions.
Knowledge is power, so don't skip the sessions. I know a lot of contractors will leave the show early or arrive late. Don't do it! There's so much to learn at every session that can help you grow and improve your business. Heck, even the worst speakers out there can teach you something, even if it is how not to give a public speech.
Network. Network. Network.
Green industry business owners take note: The educational sessions are great, but the contractors who spend as much time as possible networking are the ones who get the most out of trade shows. Your goal at every trade show should be to find a non-competing peer as a mentor or, if you're an experienced veteran, find a newbie to mentor.
Being an owner of a business can be lonely, especially since everyone in your local area is a competitor. You don't want to share secrets with each other. At a trade conference, you can find peers who are dying to kick around ideas with their peers. So find those peers and start creating a network of owners that can help you answer business questions.
Come prepared with a few questions to ask to jump-start a conversation, and you'll find yourself making connections that will help you grow personally and professionally.
Attend vendor events.
Vendors are always putting on events after hours. Go to a couple. It's a great way to meet new people, see new sites, and get some free food and drinks. It's also a great place to learn from your peers - and vendors - how to improve your business.
Bring your business cards.
Your goal should be to connect with as many people as possible, so bring a lot of business cards. Share them with vendors, speakers and peers so you have a growing network of people to help you manage your business.
Follow up.
I know how it goes: You attend a trade conference, get a bunch of wonderful ideas, see some great new products you want to buy, and trade business cards with a number of your peers.

Then, you get back to the office and it's back to the daily grind. You lose track of the time, and three months later you've done nothing with what you've learned.
You're not alone - many trade conference attendees act just like you. But don't do it. Carve out some time daily or weekly to implement new ideas, connect with your peers and talk to vendors.
Take time to enjoy the city.
Trade conferences don't have to be all work and no play. Arrive early or stay late to take in the city. Go to a baseball game. Hit the shopping district. Do some tourist activities. Working 80-100 hours a week is draining, so take a day here or there to enjoy the fruits of your labor.