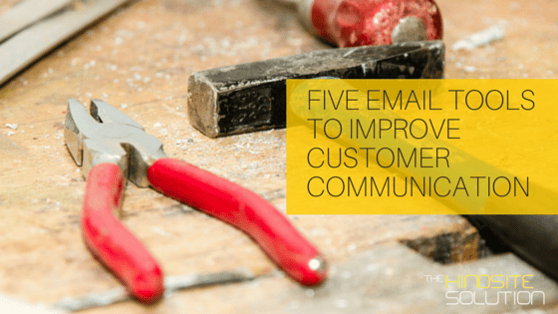 When we surveyed customers of green industry businesses last year for our 2014 Green Industry Buyer Report, we were surprised by their communication preferences. The majority - regardless of age, gender or property type - preferred that contractors communicate with them by email instead of by phone, text or in-person.
It wasn't necessarily shocking that customers prefer email communication, but it was surprising just how overwhelmingly they preferred email.
Which means it's in your business' best interests to leverage the power of email to communicate to customers. With that in mind, here are five of our favorite email tools that will help you improve your customer communication:
HindSite Connect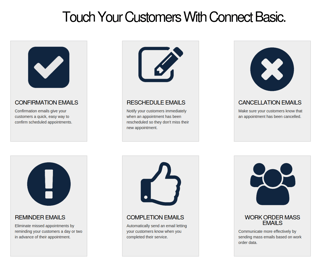 Yes, I'm biased. I fully admit it. But I also believe our service business marketing tool, HindSite Connect, is uniquely qualified to make it easy for you to communicate important appointment information to your customers. Unlike solutions like MailChimp or Constant Contact, HindSite Connect is integrated into HindSite, so you can include just about any piece of data from HindSite in your emails. Want to drop in the date and time of an appointment? Not a problem. Want to include names and addresses to personalize your email? Piece of cake. Want to include a picture of the specific technician or crew that's visiting the property? Go for it!
But that's not all HindSite Connect can do. The Pro tier of Connect delivers tools to help you measure and respond to customer feedback, so you can retain your customers. It's a great way to identify your happy and unhappy customers. You can craft follow-up emails to your happiest customers asking them to review you on popular review sites like Yelp, Angie's List and Google.
Sidekick by HubSpot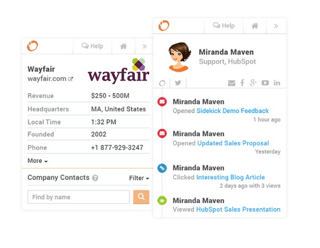 We're big believers in the marketing automation tool HubSpot. We use it religiously here at HindSite. Another tool our sales team uses religiously is a lesser known tool created by the folks at HubSpot called Sidekick. Sidekick is a free/inexpensive plugin that delivers a ton of information on emails you send using Gmail/Outlook/Apple Mail.
Basically, you plug Sidekick into your mail software and it delivers two cool features:
The ability to see contact information - like links to social media sites, company information and more - when you compose and open messages. It's a great way to see more information about your contacts at a glance.
Alerts that tell you when a contact opened an email you sent. This is especially useful in the sales process. Why? Let's say you delivered an estimate to a customer or prospect and you've followed up with a phone call to no avail. You can then send an email and, when the contact opens it - you'll get a desktop alert. You know they're likely available, and can call them immediately and likely get an answer.
Sidekick is free - with the caveat that you only get 200 open/click notifications per month. For unlimited notifications, it's an inexpensive $10 per month.
The Hemingway App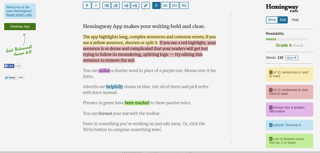 You've probably heard of Ernest Hemingway. In addition to running with the bulls in Spain, womanizing and drinking, he wrote books known for their short, punchy sentences. The Hemingway App helps you write like Hemingway.

Using the Hemingway app is simple. You copy and paste your email content into the app and get advice on how to improve your writing. It will tell you which sentences are difficult to understand, where your adverbs are, the readability and how many passive sentences you wrote.

The best news? The Hemingway App is free. Simply go to www.hemingwayapp.com to harness your inner Hemingway and improve your writing.
Touchstone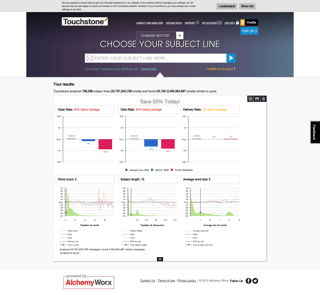 If you're like your customers, you get bombarded with anywhere from 10s to 100s of emails a day. With all those messages in your inbox and very little time, you probably don't open every email you receive. Neither do your customers.
Crafting a great subject line is the key to getting your customers to read your emails. You could do A/B tests to see which subject is best, but that's a lot of work and you likely don't have the tools to do it. A simpler solution is Touchstone, a tool that tells you in a few seconds what to expect from your subject.
Once you sign up, Touchstone is pretty easy. You can enter a subject and it will analyze it and give you an approximation of what to expect for open and click rates. You can also enter you own data for even more accurate predictions.
Touchstone has a free limited tier, but also offers unlimited one-day access for $19.99 and $99 a month that delivers unlimited access.
Lyris ContentChecker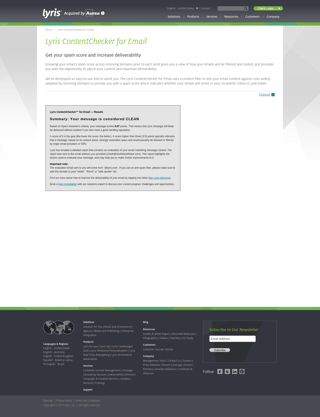 The last thing you want is to spend some time crafting the perfect customer email only to have it get rejected as spam. So it's a good idea to run your email through the Lyris ContentChecker.
Simply enter your email, subject line and content and hit Check Content, and you'll get a simple report telling you the likelihood that your content will be rejected as spam. It's free, simple and useful.
Now that you've got the tools you need to craft great emails, why not download our free eBook, The 15 Emails Your Service Business Must Send, to determine what emails to send.