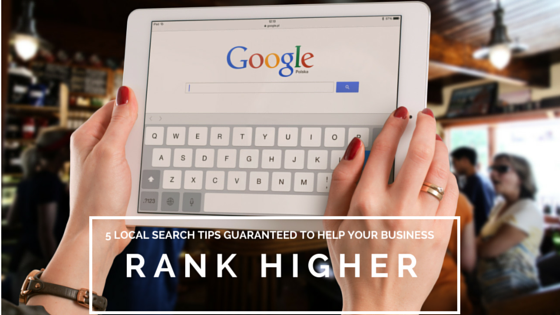 Our 2016 Green Industry Buyer Report showed a clear trend. Buyers who purchased in the last few years were just as likely to have found their current provider using the Internet as from word of mouth.
There's a shift happening that will become more pronounced in the coming years. Instead of trusting their friends and neighbors for provider recommendations, more and more buyers are trusting the Internet to find service providers.
What does that mean for your business? Because the vast majority of green industry businesses have a very small, local territory, those that use local search engine optimization tactics are going to get more leads than those who don't. You need to rank high for localized search in order to continue to grow your business; word of mouth just isn't as scalable as it once was.

With that in mind, here are five local search tips to help you rank higher for searches conducted in your service territory:
Create local content.
Google's been very clear on this: In order to rank high, you need to deliver high quality content. It's really that simple. You could do everything else on this list, but if you don't have good, high-quality content, your site may never see the light of day.

So how do you create high-quality content? Well, hopefully you think you're reading some right now. Blogging is a great way to create content that will drive traffic to your website and help it rank higher. We blog three times a week and have seen a dramatic increase in traffic. We have blog posts that get thousands of visits a month. It really does work.

The more you blog, the better. But I understand you're busy. You don't have time to do it. According to the 2015 Green Industry Benchmark Report, just over 10% of respondents have a blog. Odds are, the competitors in your territory aren't blogging. So even blogging once or twice a month is going to give you a leg up.

So what do you write about? Things that enable you to showcase your expertise. Example blog titles include:
Common St. Paul Weeds - and How To Eradicate Them

A DIY Guide to a Beautiful Minneapolis Lawn

A Seasonal Guide to Irrigating a Lawn in Bloomington
You get the idea. Provide helpful information - not a sales pitch - to drive traffic, using names of cities you serve in the title.

Ensure you have an accurate address - everywhere.

This is a simple, yet important, tip. Google's algorithm uses a number of sources to determine your location. So make sure you:
Get listed in some of the most popular business directories.

Make sure your address is the same in every one.
How do you do that? Moz has a great, free local tool to help you analyze and create your directory listings. To use it, simply type in your name and zip code. Moz will search popular business directories and give you a simple graph indicating your score. It will identify incomplete and missing directories, and has handy links to help you fix what's missing or incomplete.
I sampled the tool with one of our customers, A+ Outdoor Services, and found they had multiple addresses listed in different directories, as well as a lack of listings in some directories. Though they rank fairly high already for local keywords, correcting those errors and omissions could potentially improve their ranking.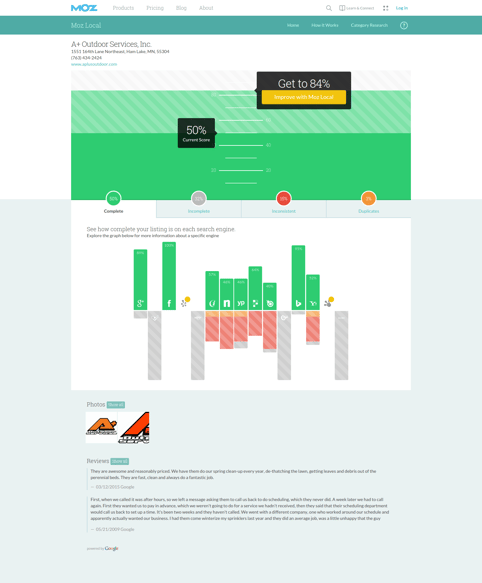 Generate reviews.
Take a look at this search I did for "Ham Lake Irrigation". Notice that the first "result" is a list of 8 irrigation business providers located in Ham Lake. Which one stands out to you?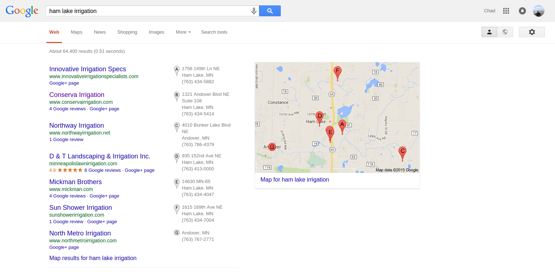 As a consumer, the first one I would talk to is D&T Landscaping and Irrigation. Why? Because those stars they have stood out like a sore thumb. They have a 4.9 rating and they have the most reviews. They are the only business listed that has stars in the search result.

So how do you get more reviews? It's not rocket science - you need to ask for them, preferably from your happiest customers. So how do you do that?

Using a solution like our service business marketing add-on, HindSite Connect Pro. With HindSite Connect Pro, you can send a post-service email telling your customer when you were there and what you did. Then, you can embed a link asking them to rate your business. If a customer rates you highly, you can send them a follow-up email asking them to leave a review on Google.

It's a simple, automated way to generate more reviews and rank higher.

Get local links

Google was founded on the idea that the best pages had a lot of links from other great pages. So another key factor in ranking high for social search is having a lot of local inbound links.

So how do you get those? Belong to local organizations. See if your local chamber of commerce links to members. Get licensed, because many licensing bodies include a list of licensed businesses. See if local distributors or manufacturers list their customers. All of these seemingly insignificant pages can give Google clues that you're active locally and to be trusted.

Another way to build local links is to build a network of complementary service providers that you can recommend to your customers - and list on your website. Know a great interior decorator? How about a plumber? An electrician? Band together and link to each other's sites. Not only will it help you get more local inbound links, but it will also help your customers find good local contractors.
Don't forget on-page optimization.
These used to be much more important than they are today, but they're still relevant to ranking high for local search. Here's a list of items to optimize:
URL Names

Page headers

Internal links

Page titles

Page content


These should be optimized for keywords. For example, A+ Outdoor Services has included their city (Ham Lake) and Zip Code (55304) in their homepage title, which is likely helping them rank #3 on a search for "Ham Lake irrigation." Other contractors have included their town or county - Morris & Bergen County Irrigation, for example - in their name, which no doubt helps them rank very high for local search.

You don't have to go to the extreme of renaming your company for a page rank boost, but including the cities or counties you serve in headers on specific pages will certainly help Google associate your business with that city or county.

After you've followed these five tips, it's time to optimize your website to sell. You're in luck! We've got a simple free guide - 6 Requirements for a Website That Sells. Download it today!