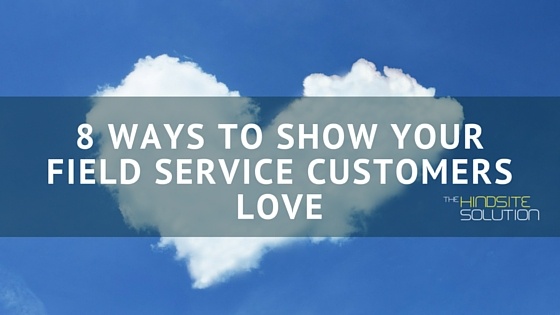 "Did you know that 68% of customers leave because they feel the company is indifferent to them? Not because of slow service, not because they found a better price somewhere else, but because they don't feel appreciated."
68% of customers leave because of indifference. They don't feel appreciated, so they go elsewhere. That is a crazy number to think about, especially since showing a customer that you care can be accomplished easily.
Not that we go through the motions, but field service businesses tend to fall into routines and often can forget about customer satisfaction. This happens because you have quite a few accounts that you need to service or because the work that you perform for your customers is similar time after time.
In the spirit of Valentine's Day, we put together a list of 8 things that you can do to show your customers some love! And, it doesn't even require you sending flowers, a box of chocolates or making them a heart-shaped card with macaroni glued to it!
Send them a handwritten thank you note
Ok, this is the closest thing you can do to sending a heart-shaped card, but handwritten thank you notes go a long way with people. Send your customers a handwritten note thanking them for their continued business and make it personal. If they have a unique landscape that you have helped maintain or create, talk about it in the note. Your customers will appreciate you taking the time to write it with a pen, it is a great personal touch.
Give them a call
Give your customers a call and tell them thank you. Pick 4-5 customers a week and just let them know you appreciate their business. Just like a thank you note, this is a personal touch that not everyone will expect. We live in a world where email can be automated for every task we perform. While it is incredibly convenient and saves us a lot of time, communication becomes impersonal.
Email them a coupon
Send them a coupon for being a valued customer. It doesn't have to be for much, but it will be appreciated. Segment out your list of customers that you have identified as your "best" customers and say thanks by giving them a deal on their next service!
Upgrade their service
If they typically only pay for your standard services, maybe dethatch their lawn, prune hedges or something else. It will be unexpected and they will be incredibly happy with you going above and beyond. Whenever you look up examples of customer service, it is likely that you'll see examples from Zappos.com. They do an awesome job of upgrading their services and creating customers who will likely stick with them for life.
Put them in the spotlight
Create a page on your website to highlight not only the work you have done, but also your customer's properties. They'll be honored that you think their yard or landscape is nice enough to be featured on your site. It gets them talking about your company with family and friends, too!
Do the small things right
Your customers will love the fact that you do the small things right on the job and don't cut corners. Maybe they have some special requests when you show up to the job and your techs remember them every time. Or maybe they love the fact that you take the extra few minutes to really clean up after the job is done.
Unconventional
Order a pizza/other food
This was a very unique one that I saw someone do for their customers and they apparently loved it! Order them a pizza unexpectedly. It sounds funny, but it is a crazy enough idea to make it memorable and lasting for the customer.
If they have a pet - get them a gift!
Do any of your customers have a friendly dog or cat that likes to hang around when you're out on the job? Get them a bone or a toy. They'll like you even more and their human's will be appreciative as well!
---
Have a few examples of ways you've shown customers some love? We'd love to hear about it! If you want a few more ideas to improve your customer service, download our free eBook below!