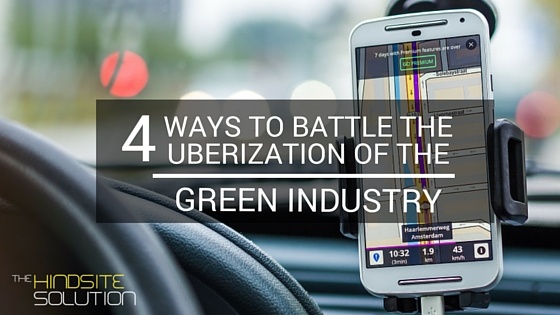 By Taylor Tuomie
The surge of the on-demand economy has changed the way many of us interact with businesses. In North America, the on-demand economy has been growing 25% annually. 105 million people in the U.S. have used a mobile app or website for one of these services.
We can hail an Uber or a Lyft in a couple seconds from our smartphones, no more calling and waiting for a cab. We can find a place for an entire family to stay in another town at a fraction of the cost of a hotel with services like Airbnb and have food delivered to us from our favorite restaurants by BiteSquad or GrubHub. They're convenient, they can often be significantly cheaper than traditional services, and they are changing customers' expectations.
We wrote a post a few months back about some of the on-demand services that have started to sprout up in the green industry and snow removal industry. From the perspective of a consumer, ordering services like lawn maintenance or snow removal is simple with this model. But from the perspective of a business owner, it may seem like they are commoditizing a service and essentially awarding jobs to the lowest bid. It is intimidating for smaller businesses to go up against giants like Amazon, and that is understandable. Here are 4 ways that you can battle the "Uberization" of the green and snow removal industry:
Sell on Quality
I'm sure you take pride in your work, show that quality every time you're out on the job. Sites like Mowdo.com and PlowzandMowz.com typically will give jobs to the contractor who is willing to put in the lowest bid. If you are mowing a lawn at around $50 and an Amazon Home Service provider is quoting out the same job for $40, you need to show why you're worth the extra $10.
Where as a taxi service can be viewed as a commodity service, it should be very clear to customers why your service is more valuable than another competitor's.
Be Flexible
This might be easier said than done, but one of the reasons that people choose on-demand services over a traditional service is because they can be more flexible. As a customer, if you need to reschedule or change the service that you ordered, it is simple to do with an online or app-based service. Customers want and are starting to expect that level of flexibility from businesses.
Having a field service CRM in place is the best way to keep up with changing schedules, cancellations and additional requests. For instance, our software's calendar view shows all of your crews on a single pane of glass. If a customer calls in, your office manager can drag and drop rescheduling and anyone in the field that would be affected by that change is notified of that change.
Have a great, not just good, online presence
If people are searching for your service in your area, are they going to find you? Can they readily see reviews from other customers on Google or Facebook? You don't need to spend anything other than a little time to beef up your business' online presence to make sure you get found. We wrote a post a little while back on how to rank higher in local searches. Some of the most important things you can do to increase your search ranking are free. Here are a few things that you NEED to be doing:
Ensure you have an accurate name, address and phone number EVERYWHERE

Create some local content. A blog with local topics is a great way to drive traffic to your site

Ask for reviews on your Google+ and Facebook pages. It helps!
Be clear and upfront with pricing
Another reason many people choose an on-demand service over the traditional service is that they have a quote in front of them before any work is done. While this might be difficult to do in all situations, you need to have process with your pricing, you can't appear to be pulling prices out of thin air. If you charge $50 per ⅓ acre yard with only a few obstacles, make that known to the customer.
People want to know what you will be charging since they most likely do shop around. Give them a number, be clear about what they can expect and you won't be surprising anyone.
(Speaking of surprises, check out this post on the Top Ten Funniest Green Industry Customer Complaints!)
---
Want to battle Uberization even more effectively? Download this eBook and build a killer web presence!