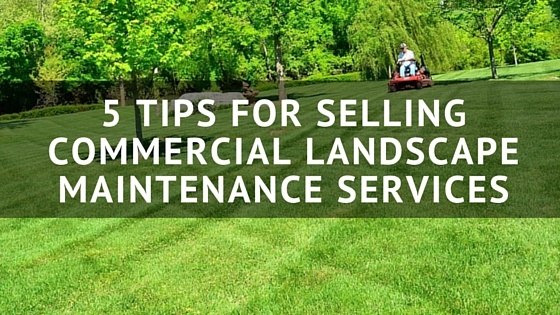 I was talking to a contractor the other day that was an efficiency expert. He'd thought of nearly everything – from the most fuel efficient truck to the way he organized parts in that truck – to make doing his jobs as efficient as possible.
If you're just starting a
green industry business
or have been in business for years, selling is the lifeblood of your organization. Without new customers, your growth stalls. And
commercial landscape maintenance
can be a potentially lucrative proposition. A single sale can net you steady work at multiple commercial properties.

With that in mind, here are five tips that can help you land new commercial landscape maintenance business:
It's a numbers game
I love the NFL draft. It's fascinating to watch how different teams employ different strategies to build championship teams. Some favor trading up to get so called blue-chip prospects. Others will consistently trade down in the draft, gathering as many picks as they can. To me, this is the soundest strategy. There are 22 starters in football, so rarely do 1 or 2 blue chip players make a difference. You need contributers at multiple positions. It's a numbers game.
Sales is a similar numbers game. You need a lot of
leads to fill your pipeline
. The best way to get those numbers is to get out and pound the pavement. Find dense commercial areas and simply walk up and down the block visiting those properties and having discussions with property managers. You can't expect to sell if you aren't continually filling your pipeline with leads, so make sure you're setting visit goals and meeting or exceeding those goals.
Know what makes you different
Relationships matter
Manage your data
Be passionate
It's a simple fact: If you aren't passionate about your business, you're going to have a hard time selling it. If you aren't passionate, people will be less likely to believe your message. Don't be afraid to get excited, have fun and be outgoing and people will respond.