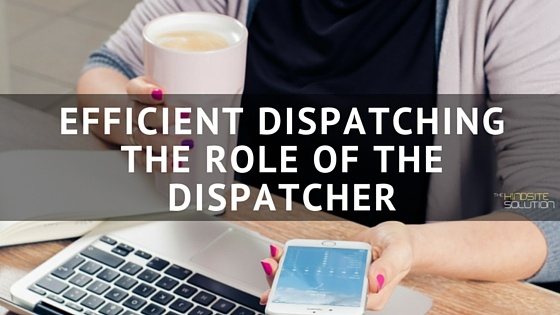 Ruth King, founder and CEO of Business Ventures Corporation, and David Crary, President and Founder of HindSite Software, recently sat down on HVACChannel.tv to discuss efficient dispatching within the field service industry.
Dispatching is one of the most important roles within your field service company. The dispatcher is the first person to talk with customers, the one who schedules jobs, and the one who provides techs with all of the information they will need out in the field.
Since this is such an important role within your company, I want to use this week's blog posts to discuss the dispatcher. In a way, your dispatcher is the representative of your company. They make the first impression with your customer, so having great phone communication skills is key.
Your dispatcher should be able to communicate clearly with all types of personalities, because they will be working with many different people. They should be able to handle customer issues effectively and efficiently. King suggest saying no without saying no. Try saying we can't help you on this day, but we can help you on this day". You want someone who doesn't just say no. You want a dispatcher who will give the customer options.
You also need a dispatcher who has strong management skills. As Crary says, "They need to be qualified to juggle many balls and to put out fires". On top of all the other duties the dispatcher has, it can be a lot of pressure to schedule techs, answer customer calls and complaints, and also work on rescheduling incomplete work orders. You need to find someone who is able to manage multiple tasks at once and who doesn't let the job overwhelm them. Plus, having someone who can help technicians with their issues is just another bonus in a dispatcher. Perhaps the tech doesn't have a solution to a problem, such as a customer needing a different part. The dispatcher can come in and order the part needed and reschedule the customer so that the job gets done.
The overall role of a dispatcher is a great communicator who can handle many tasks at once. They are the main communication point for your customers, and so they must be prepared to handle any and all situations that arise. Having the appropriate and right person in this position is crucial to your business' success and can really set you above competitors with the right person behind the phone.