In 2003, a small liberal arts college in central Minnesota, St. John's University, sent their Division III football team to play Mount Union for the National Championship. On paper, St. John's should have gotten beat by 45 points. Mount Union had lost just once in the past 6 years - a total of 110 games - and was riding a 55 game winning streak, including a 66-0 win the week before in the semifinals. Add to it that their offensive line outweighed the tiny St. John's defensive line by an average of 70 pounds per person and no one gave St. John's a shot. Even St. John's notoriously rabid fans were just hoping they'd keep the game close.
But they did more than keep it close. They won the game 24-6, earning legendary coach John Gagliardi his fourth national title. How did they do it? It was the ultimate team effort. They each knew their role and played to perfection. By every football measure, they were inferior at almost every position. Yet, the sum of their parts, the way they played as a team, translated into a victory.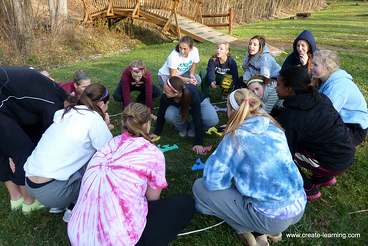 Teamwork matters. Which is why if you want your field service business to be successful, you need to all be rowing together and in the same direction. Here are five tips to building a team that will have you beating your competition:
Read the Five Dysfunctions of a Team– A great book that teaches you – in an engaging, easy-to-read format – how to turn your dysfunctional team into one that rows together in the same direction. Essentially, the book outlines the five things that can kill your team:

Absence of trust
Fear of conflict
Lack of commitment
Avoidance of accountability
Inattention to results

By understanding how and why these five things can disrupt your team and how to correct them, you'll be well on your way to a well-oiled team dynamic.

Honestly analyze where you stand with each dysfunction – Once you've read the Five Dysfunctions of a team, sit down with your team and have them rate each of the five items on a scale from 1 to 10. You'll get a better understanding of what each of your team members thinks about the team as a whole and what areas need improvement.

For example, one of the things you need to have a great team is conflict. If you all think the same all the time, something has to be wrong. It means no one is thinking outside the norm or challenging assumptions. It means you aren't having constructive debate, debate that helps clear the air and arrive at a consensus. So if your meetings never have any conflict, you need to find a way to make them a little more lively.

Get to know your team on a personal level – One way to build trust is to get to know your team personally. Hold quarterly meetings and start those meetings with a series of questions that help you get to know your team. I've even held weekly meetings and had part of that meeting include "highlights" where your team talks about both their personal and professional accomplishments from the past week. It's a great way to get to know what your teammates love to do and learn more about who they are personally. And if you know someone on a personal level, it's easier to work productively with them and you're more likely to listen to what they have to say.

Hold a Positive/Negative meeting with your team – We did this recently at our annual meeting, and I think it was a great team building exercise. Essentially, go around the room and start by having everyone say what they like about each of the members of the team. Then, follow that up by having them each say "Start doing" or "Stop doing" something. This typically enables you to deliver constructive feedback that helps your team members understand both their strengths and weaknesses.

For example, one of our team members was told to arrive to meetings on time. He had no idea his being a couple minutes late was bothersome. So he promptly setup an alarm that notified him five minutes before every meeting he had scheduled and corrected the behavior that another team member disliked.

Spend time doing something fun outside of work with your team.

Team building doesn't have to be all touchy feely. A simple way to build a team is to spend time outside of work doing something fun. You'll learn about your teammates' personalities, learn what they like to do and most importantly have fun. So spend some time bowling or skeet shooting with your teammates today.
A great team is often more than the sum of its parts. So if you want your business to be successful, take time to do some team-building exercises. You won't regret it.
Want other tips on how to improve your field service business? Check out our eBook, 33 Stupid Things Contractors Do (and How to Fix Them) today!