By David Crary

Sometimes we don't have the expertise needed to get a project completed for a customer. Consider this: A massive tree falls in the yard of the homeowner the day before you arrive to check on the irrigation equipment. You do not have the expertise for tree removal however, because of their trust in you, they want you to get the job done.You turn to an expert in the field and get a bid that you pass along to your customer. It is customary to increase that bid for time and resources that you dedicate to communicating with the sub-contractor.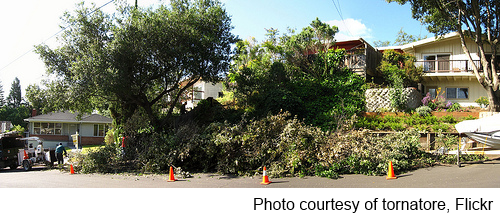 Sometimes, you feel the need to go "above and beyond" in making sure your client isn't surprised in anyway. I will never forget the awkward moment when we were having some minor remodeling completed in our house. Our general contractor had hired a carpenter to come in and build some custom cabinets around our fireplace. The day before the carpenter arrived, our contractor wanted to warn us about "Mike". What was the issue we asked…."Mike has a pony tail". We burst out laughing as this was not something that was offensive to us and certainly nothing that needed mentioning.

The point is that he went a little overboard on communicating and didn't want any surprises. He had the relationship and didn't want anything to come in the way of this trust. Hiring and managing sub-contractors is a process but it doesn't come without planning. Here are five tips that we believe will help.
Meet prospective sub-contractors face-to-face. This can be done very efficiently by leveraging a local trade organization. Collect business cards from those that you would be happy to do business with and make sure they know who you are. Use your field service software for managing this list of prospective sub-contractors so that you can quickly make things happen when your customers need your help.

Do some background checking. Get references from the sub-contractor and talk to those customers. Check out their websites and read the online reviews. Are there competitors that would be open to discussing the sub-contractor? Give them a call. Your customer is depending on you to have pre-screened the sub-contractor so be sure to do your due-diligence. It's very important for maintaining your customer trust.

Understand your insurance requirements/local lien laws. If you face a claim as a result of a subcontractor's work, you don't want to find out late in the game that your insurance policy won't pay. Review your insurance policy and how you are protected in the event that something goes wrong with a subcontractor. You don't want to be open to any additional risk so know what you are facing. It's also important to review the local lien laws in your community. Again, you don't want any surprises and need to manage the risk.

Get the contract in writing. Be sure that you are buttoned up on the specifics of what you are sub-contracting and timing. Everyone needs to have the same expectation of the service, your customer and the sub. Having this agreed to in writing will give you some peace of mind that the project will be completed as defined, timely and as estimated.

Manage the invoicing process with field service software. When the work is completed, you can quickly send the invoice to the customer and get this payment process moving so that the sub gets paid in a timely manner as well. Better cash flow for the sub will help them trust you for future work as well.

We've also had customers that include in the subcontractor's contract that they must use HindSite to track their work. Some even offer an incentive, because using HindSite eliminates a lot of the paperwork and headache around managing a job.
Simply put, hire someone that you would trust to work on your own personal property and things should work out just great.
One bonus to consider is to take some time to review the services that you have sub-contracted out over the year. Consider adding some of these services to your business
model. You will have learned a lot about the pricing, timing and frequency of the need from your customers so these may be great growth areas for you to consider.