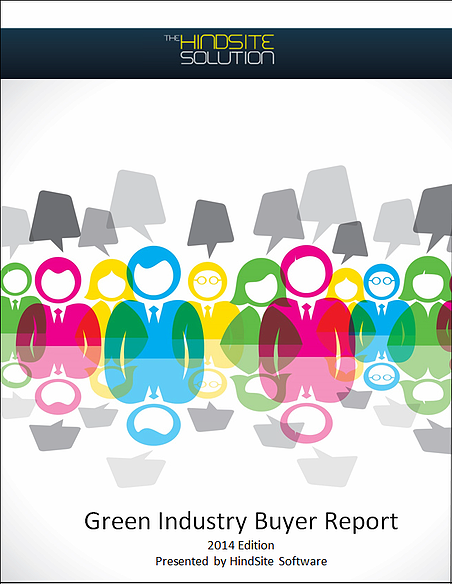 One of the key components of any good marketing strategy is understanding your target audience. Once you've identified your target audience, it becomes easier to craft a compelling marketing strategy.
We recently decided to help green industry businesses better understand their target audience by surveying hundreds of buyers of green industry services. We compiled the information and recently released it in a report, titled the 2014 Green Industry Buyer Report.

The report is chock-full of insightful information. So without further ado, here are 10 things we learned from the Green Industry Buyer Report that will help you connect with your buyers and grow your revenue:
You need to understand your target customers - Marketers are keenly aware of how necessary it is to know who your target buyer is. But, because most green industry businesses don't have a marketer on staff, they may not take the time to truly understand their buyer.

Which is dangerous, as the Green Industry Buyer Report proves. Everything from what motivates a buyer to how many providers they consider varies based on who is answering the question. Here are some examples:



Young survey respondents are much more likely to be active on social media (especially Instagram) than older buyers.
Commercial buyers are motivated by beautifying their properties, while residential customers focus on reducing their maintenance effort.
Females are more likely to respond to advertising than males. Males generally are less satisfied with the work of their providers.

The takeaway: In order to be successful, you need to identify who it is that you're targeting with your marketing efforts. If it's older, wealthier buyers, creating a referral campaign so that they mention you to their friends is going to pay more dividends than a social media campaign. Meanwhile, if you're targeting commercial customers, you'll have more success just pounding the pavement and talking to as many commercial property managers as possible.


It's Difficult to Win Customers from the Competition - As a whole, buyers of green industry services are very satisfied with their current provider. On average, they scored them 8.8 out of 10. And that satisfaction grows over time - the longer a buyer has a relationship with a provider, the higher their satisfaction.


Which means it's going to be very difficult to win a customer from a buyer, unless that buyer recently began their engagement with the green industry service provider. Another option is to undercut a provider on price - satisfaction with the price of the their provider was comparatively low.


You need a referral program - Most respondents to the Green Industry Buyer Survey indicated that they first heard about their current provider from a friend. So it's vital that you do whatever you can to encourage your existing customers to mention you to their friends.



Some ideas to get you started:

Consider lawn signs - Give your customer a discount if they give you permission to place a lawn sign in their yard.

Leverage satisfaction surveys - Ask your customer to rate your service after every appointment. When they rate you highly, send them a follow-up email with a 5% or 10% discount should they recommend you to a friend. (We're building this functionality into our service business marketing add-on, HindSite Connect).

Hold a Contest - Ask your customers to give you referrals. Award the customers who refers the most customers a big prize ($100 or $200).



You need a local search strategy - Earlier, you learned that word of mouth is the most often cited source of a new customer. However, that is quickly changing. Of those respondents who used a new provider in the past year, as many found that provider using the Internet as heard about them via word of mouth. Plus, young buyers are much more likely to cite the Internet as their source for finding a provider. In the coming years, more young buyers will age and start using the Internet to find green industry providers. If you don't have a local search strategy, you may find your new leads start to wane.

So don't be afraid to invest in your website. Create content that's optimized for local search. Consider blogging once a week to get fresh content out there. If you provide residential lawn care services, consider creating a Guide to Caring for Your Lawn in <INSERT YOUR CITY HERE>. By creating content customized to your location, Google is much more likely to associate your business with that location.




You need clearly articulated differentiators. It's no surprise that buyers shopping for green industry services are looking at more than just your business. On average, they look at 2.14 buyers, though commercial and young buyers generally look at more, about 2.35.




So you need to take the time to craft a message about what makes you different - and better - than other providers. I've seen lawn care businesses that specialize in reel mowing for a cleaner, better looking cut. Or, I've seen irrigation providers emphasize how the technology they use saves water - and money. Whatever you do, create clear differentiators based on what your perfect buyer wants. And then deliver on that promise.


You need to be sending emails - This may have been the most surprising result in the entire survey; 71% of respondents preferred their provider communicate with them by email, easily beating phone calls, face-to-face conversations and texts. Though we exected green industry buyers to prefer email communication, we didn't expect it to be by such a wide margin.

So it's clear that you need to send your customers email. At HindSite, we offer an email marketing add-on - HindSite Connect - that enables our customers to personalize transactional emails related to appointments. You can send emails when an appointment is scheduled, send an email a day or two before an appointment to remind your customer of your appointment, and you can send an email after an appointment to tell your customer what you did.

Not only does this help you inform your customer of upcoming appointments, but it also works to reinforce your brand. Plus, it's the communication method that your customers overwhelmingly prefer.




You need to understand social media - This may sound like it runs counter to the survey results since, overall, just 60% of respondents said they use social media. We're not saying you need to invest heavily in social media - you don't - but you should at least have a presence on Facebook, where nearly 50% of green industry buyers are active.

It's worth noting that who your target buyer is will determine what platforms you use most. If you are selling to commercial properties, Facebook and LinkedIn are your preferred options. If you sell to a lot of women, Facebook and Pinterest may be your best bets. And if you're selling to buyers younger than 40, Facebook and Instagram are your preferred choices.

Lastly, you need to start to understand - and master - social media in the next five years, because in the next decade usage is only going to go up. Less than 10% of buyers in their 30s don't use social media.


SOCIAL MEDIA USAGE BY AGE RANGE





Your new customers are most at risk - We said earlier that as a whole, buyers of green industry services are happy with their providers. And that's true. But those who purchased in the past year are not nearly as happy as those who purchased more than a year age, roughly rating their provider 8 out of 10, nearly a point lower than all other buyers.

The takeaway: You need to create an initiative to improve the satisfaction of your news customers. Some ideas:
At the very least, inform your field workers and office staff when they encounter a new customer. Field service software like HindSite simplifies this process.

Do something unexpected for a new customer. I've heard of businesses that send new customers flowers. An unexpected gift like that can go a long way to solidfying your relationship with a new customer.

You learned earlier that buyers of green industry services prefer email communication. So after your first service, send your new customer an offer of 10% their next appointment just for being a new customer.

SATISFACTION BY RELATIONSHIP LENGTH


You need to understand what motivates purchasing decisions - The most effective marketing message is one that aligns with a buyer's pain point or buying motivation. So it's important that you understand what motivates your buyers to buy, and craft sales and marketing messages based on those buyer motivations.

As we found in the Green Industry Buyer Report, motivations vary based on the demographic:
Commercial buyers are more interested in improving the look of their property than residential buyers.

Younger buyers are less motivated by reduce their maintenance effort and more motivated by improving the appearance of their property.

Wealthier buyers were more likely to want to add new landscaping features than less wealthy buyers.

Women were more likely to want to reduce maintenance efforts, while men were more interested in adding new landscaping features to a property.

Obviously, not all buyers are motivated by the same thing. But if you can pinpoint the motivations of the majority of your buyers, you'll be able to craft better marketing messages.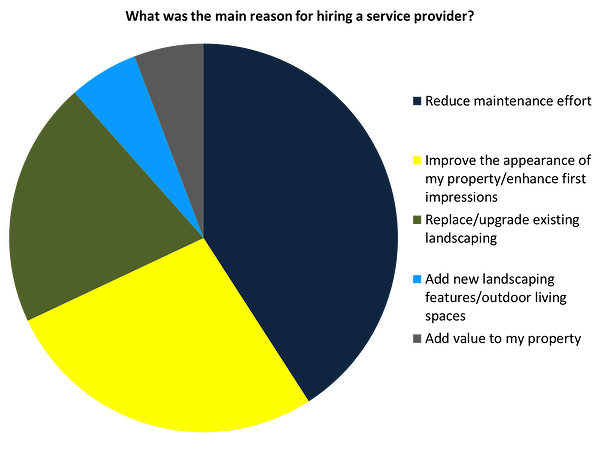 Survey your customers - The last lesson is simple. It's vitally important that you survey your customers to better understand how satisfied they are, learn their demographics, learn their buying and communication preferences and just generally better understand them. Not only can you create strategies to help you better serve and retain your customers, but a survey will also help you better target and acquire like-minded customers.

The Green Industry Buyer Report serves as a good introduction to the green industry buyer. But your customers may be entirely different. So take some time to conduct an annual customer satisfaction survey so you can learn more about your customers, then leverage that information to pursue other similar customers.

That was a lot of insight from a simple report, and there's more to be had! To learn even more about buyers of green industry services, download our 2014 Green Industry Benchmark Report today!