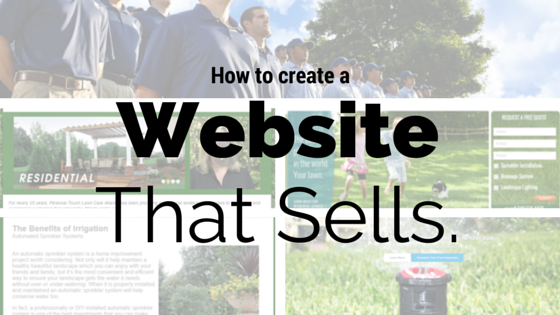 Late in 2014, we surveyed hundreds of buyers of green industry services and released a report, the 2014 Green Industry Buyer Report. It's full of great information about the folks that buy services from green industry businesses.

We learned today's buyers are much more reliant on the internet for information. 10 years ago, 80% of green industry buyers first heard about their current provider from a friend. Today, that's down to 40%. Instead, buyers are turning to the internet to learn more about green industry businesses.

The obvious takeaway: If you own a business, your website needs to sell your business.

Unfortunately, I've been on a lot of green industry business websites that don't do a great job of persuading their buyers to buy. With that in mind, here are five tips to help you perfect your copy so it gets your readers to act:
Know Your Audience
Folks new to marketing make this mistake all the time - they write about what they like, which isn't necessarily what their audience likes. We've done it at HindSite. On Earth Day, we posted a long video from a very liberal point- of-view. Only problem: Our audience tends to be conservative. We quickly learned that when we got a negative response to the video.

Likewise, if you're targeting commercial properties, use language that would appeal to those buyers. You'd use visuals of pristine commercial properties, talk about your experience servicing discerning property managers, and show your expertise in commercial projects.

Marc Dutton Irrigation does a great job of speaking directly to their customers. Their homepage targets residential customers, shows two young children and a dog playing in a pristine lawn with the caption "The best playground in the world. Your lawn."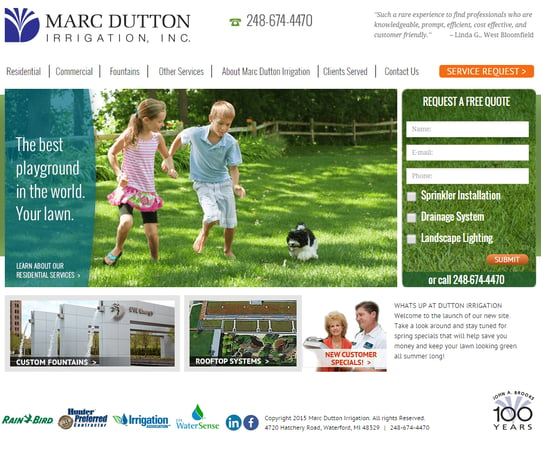 On their site for commercial buyers. they prominently display a picture of Comerica Park, one of their projects, as well as links to other projects they've done. With such high profile projects prominently displayed, you know this is a business that can deliver on commercial projects large and small.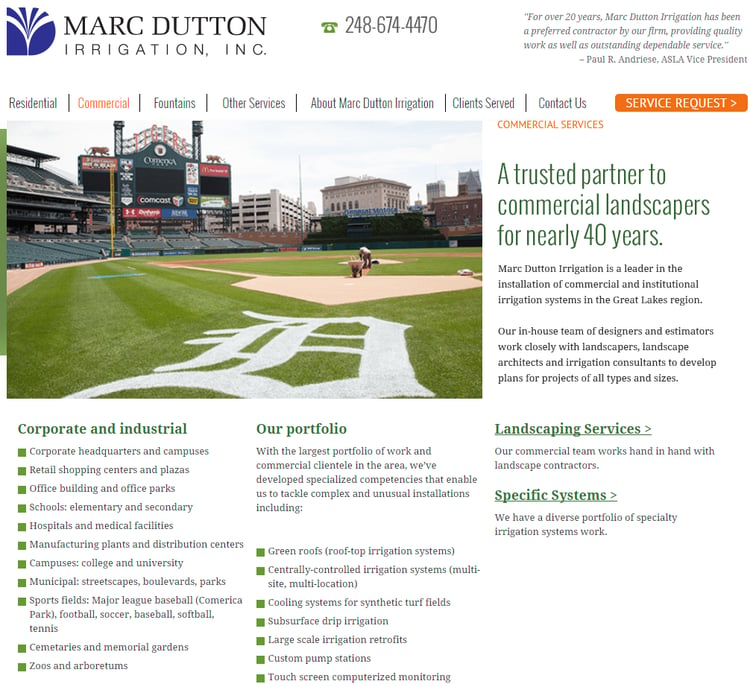 Tip: Don't forget to download the 2014 Green Industry Buyer Report for insight into how buyers across America buy your services.


Dos S's
No, this isn't a new beer from south of the border. In order to be most successful, be Specific and Simple.

For example, don't write long-winded copy about how your great-grandfather started the business in 1946 after returning from the war, including every insignificant business improvement since then, on your home page. An About Us page can include your "look-at-me" company history, but there's no need for it to be front and center.

Keep your content simple. Focus each page on what you want it to do. What message do you want it to convey? How will that message get the reader closer to buying? What unnecessary fat can you remove that doesn't convey that message?

It's also important to be specific. We've all seen that marketing messaging that tries to be everything for everyone. Guess what? If you're trying to be everything for everyone, you won't appeal to anyone.

So be specific. Who are you targeting? What do you do for them? What specifically makes you better than your competition?

One of my favorite examples of specific and simple is the irrigation franchisor, Conserva. Their homepage gets to the core of what they do simply: Less Water. More Savings. Healthy Landscape. They follow it up with two calls-to-action - to learn more and to schedule a free inspection. It's brilliantly simple.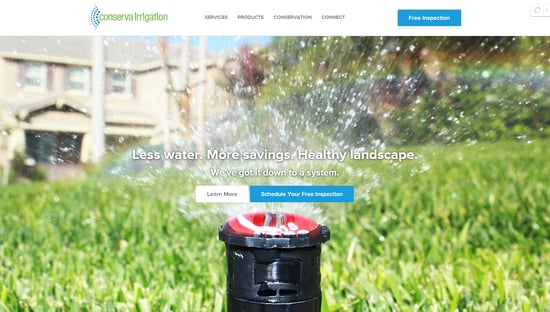 Use Visuals
You know the old saying "A picture is worth 1000 words?" It's true, especially on web sites. You can convey more with one image than you can by writing 1000 words about how great you are. So use visuals. Some tips:
If you really want to stand out, don't use stock photos. Hire a professional photographer to take pictures of properties you service, your team, your truck, your office, your happy customers, your customer's dog frolicking in lush grass. Whatever your core message, think of visuals that express that message.

Before and after pictures can really illustrate the value you bring to a property. Again, make sure the after picture looks professional.

Don't be afraid to get creative. I've heard of green industry professionals who have bought inexpensive remote control aircraft, equipped them with cameras, and flown above a property to get a unique perspective. Those aircraft are getting cheaper and cheaper, and it can really help you stand out.

Use icons or other graphics to illustrate points and make your site less text-heavy.


A great example of the use of professional photography is the US Lawns website. One of their core messages revolves around their professionalism. So their website is full of high quality pictures of their team smartly dressed in their U.S. Lawns attire. They don't look like what many perceive the typical green industry lawn maintenance crew to look like, which helps advance U.S. Lawns' core message.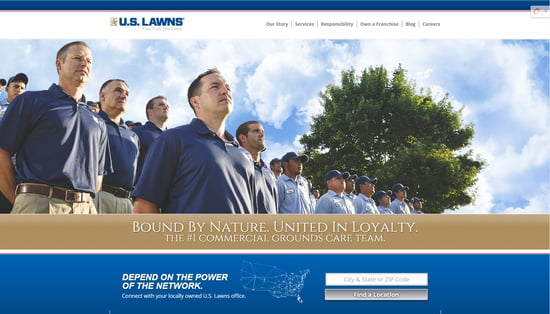 Sell Benefits, Not Services
I see this repeated over and over on just about every website, and it's especially rampant in the green industry. Instead of talking about what you do, discuss the benefit of what you do.

What's the difference? Compare these two statements. "We aerate and fertilize lawns." vs. "We deliver a lush lawn that will be the envy of the neighborhood." Do you think your audience would rather have their lawn aerated and fertilized, or have a better lawn than that pretentious neighbor two doors down? Focus on the outcome of what you do, not what you do.
A great example of this is Greenway Irrigation in Louisville. They have a page dedicated to the benefits of irrigation. It highlights why irrigation is a great investment and the benefits of installing an automatic irrigation system.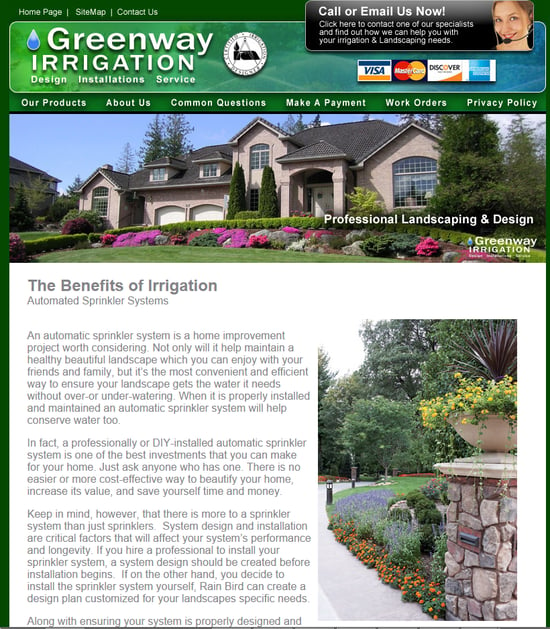 Leverage Your Customers
In addition to surveying buyers of green industry services, we also survey green industry businesses. As reported in our 2015 Green Industry Benchmark Report, the majority of businesses receive the most leads through word of mouth from existing customers.

Smart businesses leverage that word of mouth by displaying customer testimonials on their website. You can simply include the text of what your customer said, or, even better, embed a video of them talking about your business. Whatever you do, make sure you include testimonials on your web site.
One of my favorite testimonial-rich sites is Personal Touch Lawn Care in Atlanta. They include professional video testimonials throughout their site. It adds a layer of social proof that they deliver satisfied customers and beautiful properties.

Wondering how to get testimonials? Our field service software has a service business marketing add-on, HindSite Connect Pro, that enables you to embed a survey in an email you send customers after a service. Your customers can not only rate your performance, there's also a comment box that enables them to input any additional comments they have. One of our customers uses those free-text comments in his marketing mix - on postcards, his web site, etc.

Even better, HindSite Connect Pro also enables you to send a follow-up email when someone rates you positively. We recommend that customers include a link to online review sites - Google, Yelp, Angie's List, etc. - so that they can turn those positive comments into more reviews and eventually more business.
Conclusion
If you take these five tips to heart and implement them on your website, you'll sell better than 99% of the green industry businesses out there. Putting just a little effort into making your website persuasive can have a lasting impact on your bottom line.
Want to learn more about buyers of green industry services? Don't forget to download our free report, the 2014 Green Industry Buyer Report, today!