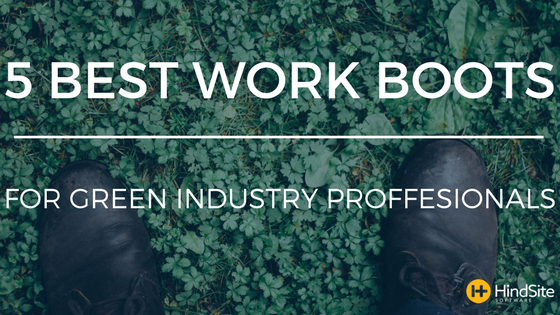 If you're shopping around for a good work boot, you'll know that there are A LOT of choices out there. For the most part, it seems like people will stick with the same brand of boot for life once they find a good pair. Green industry pros go through quite a few pairs, they're always on their feet and they get beat to heck on the job. Some people will go through a couple pair a year and some might have a pair that lasts them a couple seasons.
Comfort is the biggest factor that people consider when buying a new work boot. Looking through forums, the reason people choose and stick with a certain brand is because they feel great even if they're on their feet all day. Whether you're considering a switch to another work boot or you're just curious what other folks in the industry are using, here is a list that is based off of a poll on LawnSite.com that shows the most commonly worn boots in the green industry.
These are pretty popular with LawnSite users. They range in price, but their top selling boot cost $104.99. They are steel-toe and waterproof. These boots received a 4.1 out of 5 star rating on their site and they were also talked about quite a bit on LawnSite.
CAT is a trusted name with work boots. They are are known for their industrial machinery, but they also make a good work boot, too! Their Second Shift boot is their most popular with lawn maintenance professionals. Some people say they are tougher to break in, but once they are, they are very comfortable. They come in brown, black or tan leather and cost $104.99 on Caterpillar's website.

The Raider 6" Work Boot is the most popular amongst Wolverine boots. They are said to have an athletic and flexible feel and grip well on slippery surfaces. Wolverine also backs them with a 30 day comfort warranty, if you don't like them, you can send them back for a full refund! They cost $130 on Wolverine.com and have great reviews
These boots have been around for over 30 years. It is one of Timberland's top sellers and is a favorite among many green industry and field service professionals. They are waterproof and have an alloy safety toe, which is nice because it is lighter weight than most boots with a protective toecap. One thing that I did notice in the reviews was that a few people said the sole has cracked on them, so they gave it a poor review. Timberland's website has them for $170.

The favorite of LawnSite users! Red Wings are on the pricier side of work boots out there, but according to the users on LawnSite, your feet won't regret the investment! These 6" boots received a 5 out of 5 rating on their site. They tend to last longer for most lawn maintenance pros, at least a full season of use, they are extremely durable. Most people say that they take about a week to break in, but then their thicker soles become super comfortable. Also, Red Wing stores are great at finding the right boot for you and educating you on what boot will work best for you.
Here is a quote from one of the users on the LawnSite forum
"If you get them from the actual dealer they will recondition the leather once per month and will replace the strings all for free for the lifetime of the boot. I buy the lightweight hiking style steel toe. I had a the cap shift on my last pair and left a callous on my toe....took it into the dealer and he ordered me a new pair for free!"
These cost about $200 on RedWingShoes.com.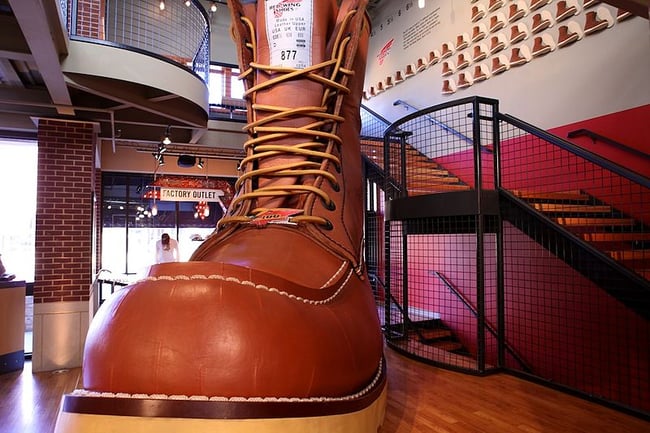 I also might be slightly partial to these because the company is based in Minnesota!
Honorable Mention
Stihl LawnGrips- I couldn't find a site to buy these, but they seemed to be a favorite for some people because they were comfortable for hot temperatures.
Chippewa
Danner- Their 6" boot is said to be pretty comfortable and very lightweight.