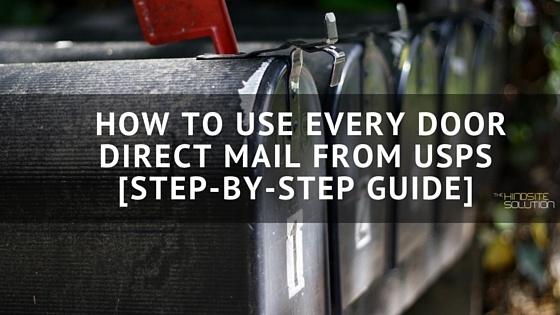 Field service businesses are their most profitable when they can optimize their daily routes to get as many jobs done in a given day. For instance, it is beneficial for lawn maintenance providers to gain as many customers as they can in a given neighborhood. They want to work within a few neighborhoods instead of having to drive all around town to mow lawns. Anything you can do to reduce windshield time and to keep your crews working will help you net more in the long run.
Because field service businesses benefit from targeting a few, concentrated prospects. Direct mail can be an incredible marketing tactic that can help you reach more prospects.
Every Door Direct Mail(or EDDM) is a service that not too many people know that the United States Postal Service offers. It isn't that they're trying to keep it a secret, it is just that you need to search out how to use it.
EDDM can be a powerful marketing tool for a field service business. Here's what EDDM can do for your next direct mail campaign:
Help you reach a location without an address list.

Seek new customers in a targeted area.

Reduce mail preparation costs involved with a direct mailing campaign.
Short on time, but still want this guide? We'll email you a copy!
The Post Office will ship a minimum of 200 and up to 5,000 mailpieces in a given Zip Code in a day. That means you can reach anywhere from 200 to 5,000 homeowners that you don't have contact information for! That is a pretty huge reach without having any of the information that you normally need to send direct mail.
So here are the steps that you need to take in order to send direct mail campaigns for your field service business through the Post Office's EDDM service.
Create your postcard
First, you'll have to create your postcard. Here is a simple guide we created that you can use. Do you have an offer that you're using for this direct mail campaign? Be sure to have a clear call-to-action for your customers. Make sure it creates urgency as well, such as "call before May to schedule your irrigation system blowout for 10% off your service".
The USPS has a few stipulations on what you can send using EDDM. Here is the complete guide, but essentially, this is what you need:
Minimum size requirements: 10.5" Long

OR

6.125" High

OR

0.25" Thick

This means that your post card needs to reach

one

of these minimums, but cannot exceed

any

of the maximums.

Maximum size requirements: 15" Long, 12" High and 0.75" Thick

Mailing label must be on the

Top Half of the mailpiece. You must also include what they call the "Retail Indicia". The portion in the corner that typically contains a postage stamp will need to contain this: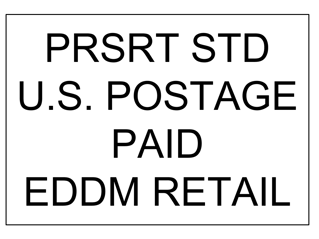 The max weight of an individual postcard is 3.3 ounces.
Plan your mailing
First, you will need to plan out your direct mail campaign. You can do this by using the USPS.com Every Door Direct Mail site. Here are a few things you should consider. What Zip Code do you want to target? Then, drill down to what neighborhood(s) you'd like to choose. Within the EDDM website, you are able to click on routes, choose whether you want to send to residential, business addresses or both. Then, you're also able to choose age range as well. The tool will then show you the delivery addresses and how much it will cost you.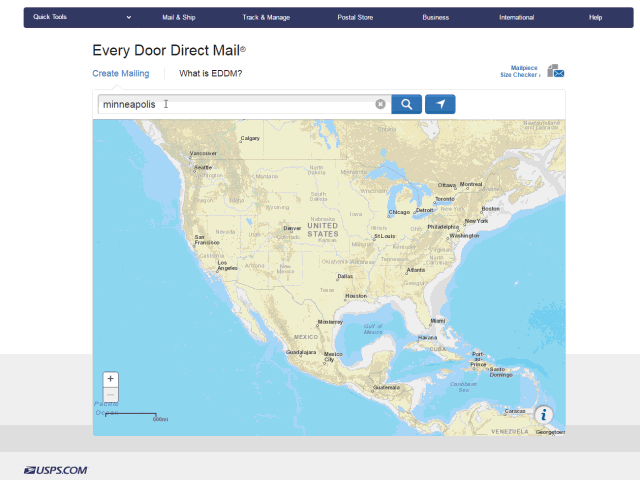 This will give you an idea of how much you're going to have to spend as well as your reach for the mailing campaign.
This is an extremely important step. Be very deliberate in your targeting. Do you know which neighborhoods fit your target market? Are you a lawn maintenance business trying to get more stops on a route in a small area? Be sure you target wisely. Don't just pick a full area code unless you can actually service that area.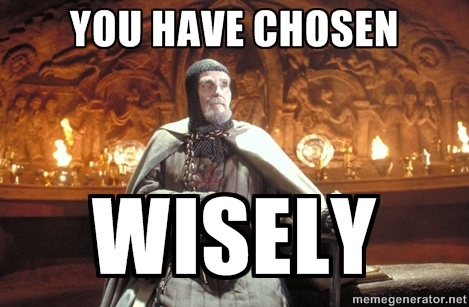 Print out your postcards
There are few different ways you can do this. But if you have a design saved, you can either go through a local print shop (just Google search your area + postcard printing) or you can go through sites like these:
Most of these printing services will ensure that the address spaces and postage area will be left blank, but double check and make sure that they are in the correct location.
Bundle them up
You'll then have to bundle up your postcards. The Post Office recommends you bundle your mailpieces together in quantities of 50 to 100 pieces. For instance, if you wanted to mail out 806 pieces, you could have ten bundles of 100 and one of 6. You need to include how many pieces are in each bundle.
Pay and drop the postcards off
You can do this online or you can do this at the Post Office. If you are paying online, you then will have to choose what day you are going to drop your postcards off at the Post Office that services the routes you chose. You will need to enter in the weight and container information for your order.
Your order confirmation page will have a few forms that you'll need to print out and bring with you to the post office, including the Facing Slips, which accompany each route you've chosen.
You can save this order in your "favorites" so you can use it at a later date, too.
Print out the Facing Slips, attach them your bundles of postcards and drop them off at the Post Office.
Sit back and let USPS deliver!
Your work is done! Once the post office has your postcards, payment information and the sending information, you're all set! It is that simple to send up to 5,000 postcards to a highly targeted area for your field service business!
Direct Mail Pro Tip - Split Test Mailings
Split testing, or A/B testing is a concept that was developed in scientific fields, but has been adapted to test the effectiveness of marketing. When you're sending out postcards, try A/B testing one element of your design.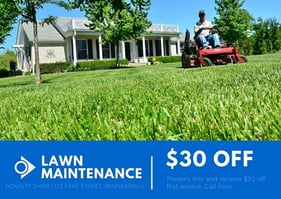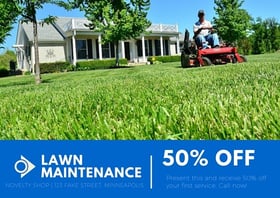 For instance, in one of the packets of fifty that you have delivered to a neighborhood, use one type of offer, like "$30.00 off first service". And in the other packet of fifty cards, try a different offer, like "50% off first service". The intent of this is to see what factors work best for your target market. You can split test anything. And I mean ANYTHING! Images, colors, fonts, even intentionally misspelled words! Make sure you have a way of measuring the effects, like a coupon code the customer has to use.
---
Now that you have postcards finding potential customers, learn how to have potential customers find you! Download our free eBook Local SEO for Green Industry Businesses now! Just click below.