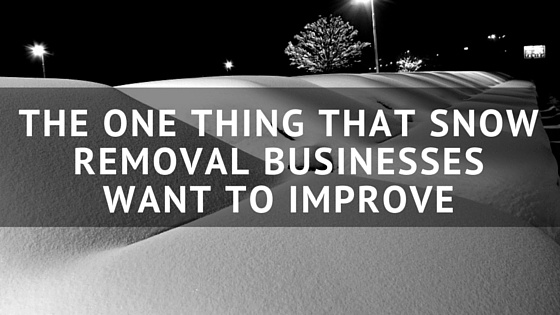 We have been running the results of our annual Snow Industry Benchmark Report. We had over one hundred responses to our survey from snow professionals all around the U.S. and Canada. The survey covers questions ranging from materials and equipment, to hiring and managing, to opportunities and threats. Each year, it is interesting to see trends that span geographic territories. In years past, respondents have been optimistic about their business' outlook, while the following year, they might take a more pessimistic view of the health of their business.
This year, one trend that we saw was fairly surprising.
17% of respondents said that improving as a leader or manager is the one thing they want to improve in their snow business.
Last year, only 3% of respondents to our survey said that this was a priority. So what happened? Why did this jump up to become one of the top things that businesses want to improve? Well, that might be tough to answer. But what we can look at are some of the factors that can make snow removal business owners great leaders. Harvard Business Review released a study in which they asked 195 business leaders what qualities they felt were the most important in being an effective leader. Here are the five traits that they found most important and what they mean for your business.
Strong Ethics and Safety
As a snow removal business, there are ways that businesses can cut corners. They can use bend the rules and short their contracts. Being an honest and ethical leader encourages your employees to act the same way. When you show that cutting corners is unacceptable to you, they will either take that same approach to ethical dilemmas. If they don't, they know your position, since you've made it clear.
Along with ethical standards, promoting safe practices is an important leadership quality. A safe environment for your employees is vital to your business' success. Having policies in place for safety, such as limiting cell phone usage on the job or reflective clothing for sidewalk shovelers is key. The number of accidents and risks for accidents are greatly diminished, which also lowers your costs.
Self-Organization
Being able to delegate effectively is important, but being a leader that encourages others to take the lead can be even more rewarding for your business. Great leadership hires the right employees and puts them in charge of their position. They give them the tools they need to do the job right and let them perform. In the HBR article, they state that,
"Research has repeatedly shown that empowered teams are more productive and proactive, provide better customer service, and show higher levels of job satisfaction and commitment to their team and organization."
In the snow removal business, this might mean structuring your team in a way that removes you from much of the equation. One thing that you don't want to be doing during snow events is running from job to job just to check on your workers. If you have the right team structure and the right people in the plow trucks, you should be able to use your efforts elsewhere.
Efficient Learning
A great leader is able to learn from their employees. Even if you have been in the business for years, good leaders know they can still learn from new ideas and fresh perspectives. Being open to allowing others bring ideas to the table is a sign of great leadership. This might mean trying a new route for the season or managing a contract differently than you have in the past.
Nurtures Growth
Great leaders recognize the importance of education. For snow removal businesses, this might mean on the job training like pairing an experience employee with a less experienced one for a "ride-along" during a snow event. Or it might mean sending your employees to trade shows and seminars during the off season.
Providing an environment in which employees are given the ability to grow their skills and in turn grow their careers is mutually beneficial to both the employee and employer.
Connection and Belonging
Leaders that can communicate frequently and openly with their employees create a better team environment. A good team environment is generally more efficient, making for higher profits. Snow removal can be a high stress position. There are some snow events that will last for days. You never know when a storm might hit, your employees might have to be ready to move at any time, day or night. If you're able to work together as a team to tackle the tough storms, the job is much more enjoyable.