By Taylor Tuomie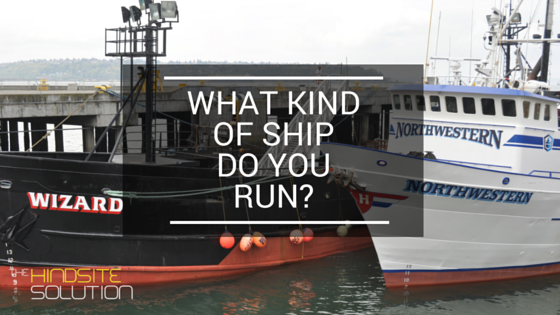 We talk about the importance of a good company culture a lot. A good company culture can trump the list of importance of what employees look for in a new job, even above compensation packages or vacation time. But what does good company culture look like and how can it make your field service business more successful?
It takes a lot of different forms and it looks different from industry to industry. But, when it comes down to it, it's leadership that decides what kind of culture is in place. While having the right people in the right positions is important, it is the person hiring those employees that is responsible for the team he or she puts together.
The Deadliest Catch(yes, the Discovery Channel show about crab fishing) is a good example of differing company cultures within one trade. As you would imagine from any reality show, there are plenty of personalities at work. They have a few crews that mesh together wonderfully and act as a unit; overall, they are successful boats when the season ends. There are also boats that have terrible churn when it comes to their "greenhorns". Captains treat their crews lousy, and they don't succeed when they pull into port.
The captains are the ones who set the tone, they are the ones the rest of the crew depends on. You can tell who is respected as a leader and you can also tell when crews don't trust their captain, their culture is typically terrible on deck. While it makes for good TV, consider the way your crew runs.
Maybe you're the owner of a small irrigation company or maybe you own and operate a fleet of snow plows, as the leader, you determine the culture. When you hire new crew members, how well do you train them? Do you take the time to teach them processes, do you understand that everyone needs to start somewhere? We put together a brief quiz for you to see which kind of ship you run!
Want to learn a little more about managing a crew? Aye aye, Captain! Download our free eBook on managing and developing your team.