---
This is the second in a series of 6 quick to-do's for your field service techs. Things that are easy but effective at helping you build a better business. Let's get to it!
---
Field Service Tech To-Do #2: Clean Stuff

When the season slows down – and right before it really picks up – you get your guys in the shop and get to cleaning. Hose down the equipment, do some maintenance, get everything back to ship-shape. And no, that's not what we're talking about.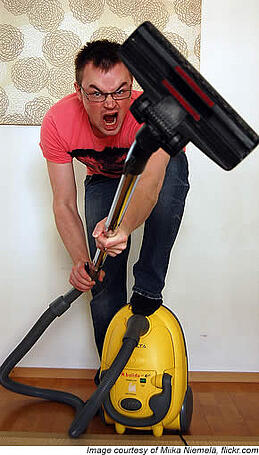 What we're talking about is something so simple, you might not even discuss it with your field techs. It's something that everyone just expects… but surprisingly, it doesn't always happen.
When your techs leave a jobsite, the work area should be as clean or even cleaner than when you left it.
Let's face it, many contractors have dirty jobs. Digging holes, fixing pipes, blowing vents. Not to mention broken pieces, shavings, and whatever else gets dropped. So why not impress the hell out of your customers by leaving the place immaculate (within reason - no need to carry around a Dyson).
"Ahhh whatever, the customer won't notice how clean we leave it."
No, but they most definitely notice how much of a mess is left. Now, as mentioned, the majority of you will do this as second nature. But take a minute to reinforce this with your service techs. It's one more touch-point with your customers.
And besides, when you're on site, cleanliness can often mean a big difference to the safety of your people and anyone else involved!
---
<< Read The Previous "To-Do"" target="_self"><< Read The Previous "To-Do" | >" target="_self">Read The Next "To-Do" >>