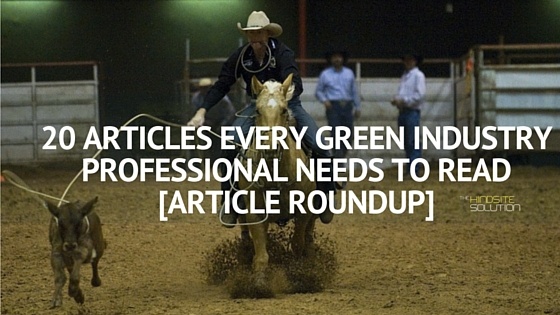 As a green industry business owner, the amount of information on the web that can help you run your business might be a bit overwhelming. You can get advice on finance, marketing, operating, equipment, and anything else under the sun. Because there is so much out there, some of the best advice winds up slipping through the cracks.
So we compiled 20 of the best articles that can help you improve your business from all around the Internet in a good ol' fashioned Article Round Up, YEEHAW.
Topic: Sustainability
This article from GreenIndustryPros.com covers why organic offerings are a huge opportunity for lawn care providers. It covers important topics such as soil health, landscape diversity and more. Read up and see how you can tap into the very profitable organic lawn care market!
Topic: Irrigation
Professional grade irrigation pumps are expensive pieces of equipment. If one starts to fail, homeowners don't want to replace them. Here are three avoidable causes of pump failure that you can share with your customers. This article also explains why a SmartBox might be a good option to use.
Topic: Technology
Lawn and Landscape covers why field service customer relationship management (CRM) software is so important to have in place. They cover some of the different software programs you can use, how long it takes to learn to use a CRM and the benefits of doing so. Learn how a field service CRM can help you nurture leads from first contact to paying customers.
Topic: Sustainability, Landscaping
"Sustainability has been a buzzword in landscape design for the past few years now and its popularity is only growing", writes Jill Odom. Sustainability encompasses the equipment, materials and methods that you use in your daily operations. This article goes into depth on how to build wildlife-friendly landscapes that can provide food, water, shelter and space for wildlife.
Topic: Operations, Leadership
Other than folks in warm climates, green industry businesses are very much seasonal operations. And even if you are in one of the states that can provide lawn care, irrigation or landscaping services year round, you still more than likely have a "busy season". Because of seasonality, businesses need to hire on seasonal employees. But those employees come with a unique issue, how do you make them part of the team? This article covers how you can accomplish that and how you can make the most out of the busy season!
Topic: Health, Wellness
Foot health doesn't always get much love. As a field service professional, you're probably beating the crap out of your feet. You're on them constantly, exposing them to extreme conditions and doing it all over again the next day. Lawn and Landscape interviewed Dr. Tracey C. Vlahovic, a professor in podiatric medicine for a few tips on foot health!
Topic: Finance
In this article, HindSite Software (hey, that's us!) explains how even the least financially savvy business owners can take charge of their financials. You don't need to be a financial wizard to understand a balance sheet and you don't need a degree in finance to create an annual budget for your business.
Topic: Productivity, Operations
Do you have a backup plan for the day? Learn why a backup plan can be the single most important thing to keeping your green industry business productive. If you get rained out for a day, can you fill that day by being productive? Can you call customers, can you work in the office? See why you should "be able to switch gears on the fly" to maximize your productivity.
Topic: Irrigation, Start-ups
Spring is here and if you're an irrigation professional, you're feeling it! Start-up season can be the absolute busiest an irrigation business will be all year….well, that is until winterizations! Here is a great checklist for start-up season from Ewing.
Topic: Office, Efficiency
A great office manager can make a green industry business hum. They can be the glue that holds the business together. Office managers often get tossed into high-stress situations, much like another profession!
Topic: Operations, Leadership
The green industry is plagued by a high turnover rate with their employees. It is an issue that business owners have been trying to tackle for a long time. TurfMagazine.com covers six practical ways that you can set your employees up for success and how that can help with retention.
Topic: Irrigation
In this helpful post from Ewing , they cover the most common places that irrigation systems will leak from. Be sure to check this post out and see if you can help save your customers some money on their water bill!
Topic: Technology
My family recently had someone take some aerial video of our cabin using a drone. It was so cool to see, but then it kind of got me thinking, how could we improve the place? This article covers how these cool devices can transform the green industry and also some of the concerns that accompany them.
Topic: Management, Leadership
Here is another great post from TurfMagazine.com on employee retention. If you're making these these ten mistakes, STOP IT NOW! They're simple mistakes that can be simply corrected.
Topic: Leadership
As you're reading this, I'm guessing you're crossing your fingers as you go down the list, praying none of the signs sound like you! Read up and see if you fall into the "bad-boss" category. I'm going to bet you aren't though, because you're reading this list to make sure you're making your business better!
Topic: Landscaping
Landscapers and the folks that equip them, like John Deere, Stihl and Husqvarna work together to shape the future of their industry. They collaborate and also educate each other to build a better outlook for the years to come.
Topic: Technology, Health
Staying healthy while working a full-time job can be tough to do. Let technology help you out! Here are 25 apps that green industry pro's can use to improve their fitness and overall health and wellbeing.
Topic: General Business
What is the single most important factor in the success for a green industry business? Well this article says that trust is the most important thing to build and grow. It also gives you four ways to get trust working in your favor.
Topic: Sales
Not everyone buys the same. There are some folks who are impulsive and some who need to take their time to make a decision. As a green industry business owner, you've undoubtedly encountered some personalities. But just because a prospect might have a completely different personality from you, doesn't mean you can't sell to them!
Topic: Everything-Green-Industry
**SHAMELESS PLUG ALERT** We released the 2016 Green Industry Benchmark Report recently and it is absolutely packed with info that all business owners should know. This infographic contains the most important findings of our annual report!
---
Maybe you missed this resource before, but you should download it for free now! Local SEO for Green Industry Businesses can help you beef up your online presence!