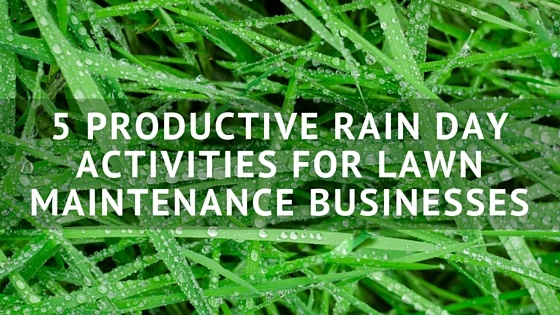 You've likely been to a baseball game or at least seen one that gets rain delayed or even cancelled because of rain. The umps come onto the field, call it and an impressive crew of about fifty people roll out the tarps to protect the field. For some games, that might be more exciting to watch than the actual game.
During the summer months, storms can roll in and out of areas with very little warning. If you're a lawn maintenance business, you know that it can be a huge pain to deal with. You know that there will be work that has to be made up, your crews are likely hassling you for hours and you know your customers will be calling if their property isn't taken care of. But you don't have to just sit around with your crews waiting for the rain to stop like you're hanging out in a dugout. Here are five things that lawn maintenance businesses can get done on rain days.
Organize equipment
One of the best things that you and your crews can do during a rain day is to organize and prepare your equipment. If you have a building that you store your mowers, trailers and other equipment for the job, this is a great time to get that work done. Your trucks are one of the biggest pieces of marketing for your business and your crews' appearances do matter. Using a rain day to spruce up your trucks and getting the trailers that you haul your equipment with organized is a great use of the time that you can't be out in the field. One Lawnsite.com user mentioned that on rain days he would sharpen the "stack of blades on the work bench". That is a great use of time!
Catch up on office work
If you have any work that can be done in the office, rain days are a great time to catch up on that! Lawn maintenance business owners tend to take their work home with them quite a bit. Instead of working on paperwork or administrative work on your nights and weekends, get it done while the weather is nasty. Rain days are a great time to go through your books and make sure all of your customers are up to date on their payments.
Schedule your social media posts
Another great activity for lawn maintenance businesses during rain outs is to schedule out some quality social media posts. Your company is probably on Twitter and Facebook, but if you're like most green industry businesses, you aren't very active on either of the two. It takes time to manage these accounts and typically folks just don't want to take time out of their very busy day to post. Rain days are a great time to sit down, plan out a social media calendar complete with posts and schedule them out using either Facebook's built in scheduling function or a social media scheduler such as Hootsuite.
Visit prospects
Get a list together of those prospects that you've been planning on getting in touch with, hop in the truck and go shake some hands! While it isn't the most glamorous job, pounding the pavement and getting in front of prospects can pay off. Take the down time when you can't actually do work in the field to attempt to gain a few new accounts. Even if it is deep into the season, you can always start thinking about the following year.
Take a break!
This might be one of my favorite replies to a Lawnsite thread. Someone asked the same question that we're trying to answer, what should lawn maintenance companies do during rain days? One user's response was to "Ice down the beverage cooler". Don't be afraid to take a break on rain days. You'll likely be busy the rest of the season, you should take your breaks when you can get them. Best part about rain days is that realistically you can't get much work done anyway, so you don't need to feel guilty about not working!
---
If you're looking for one more thing to do while the weather is bad, why not learn about FieldCentral, the easiest way to take care of your lawn maintenance business?