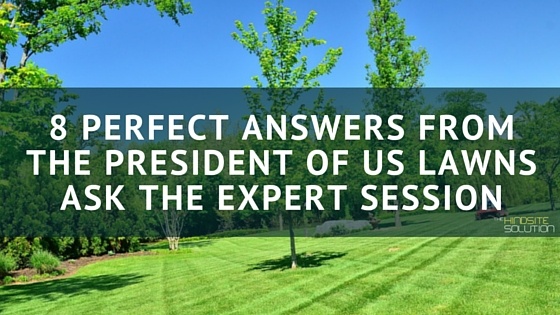 By Taylor Tuomie
Recently, LawnSite.com held an Ask the Expert session with Ken Hutcheson, the president of U.S. Lawns. The question and answer session was open to all LawnSite.com users. We monitored the live chat event closely because we were interested in seeing what Mr. Hutcheson would have to say to other green industry professionals.
Here are 8 perfect answers from Ken Hutcheson, president of US Lawns, to questions from LawnSite.com users.
As it relates to U.S. Lawns; what has been the best advertising strategy for consistent growth; and why?

"Concerning consistent growth; it's not about advertising. It's about understanding who you are as a person and as a business so that the message you are communicating is genuine. As far as communicating this to the market; you are the best piece of advertising. Become active in the community and look for ways to interact with your prospective customers face to face. Of course, it also helps if your branding is high quality, professional, and represents your values as a company. To keep it simple, it's your front line appearance; trucks, equipment, customer selection, and job sites."
This question and response by Hutcheson is perfect. What he has to say about branding and advertising is great. YOU are the the best piece of advertising. It's you that is the face of your business and every action that you take is part of your brand. Appearances can mean a lot in the green industry. Much of what we do is to make a lawn, a landscape, a property look better. You should be paying attention to little details like how clean you leave a jobsite.


How does your company help its locations find and retain quality help?
"Great question. Let's describe an initiative we have called "be the best place to work." It's built around recruiting and retaining the right employees. We have developed tools/tactics to help our franchisees aggressively promote the career opportunities at their locations. First, you have to let the market know you are hiring, then you need to make it easy for them to apply. Once you have them in the door, you need to welcome them, orient them, and then properly train them or you will never retain them."
As a franchise, U.S. Lawns has a developed system for hiring and training. Smaller businesses might not be as sophisticated, however, they should be able to learn a lesson from larger companies. This has been a sticking point for so many green industry businesses over the years. But Ken Hutcheson's points on the topic is important.
You need to make sure the market knows you are hiring - you should be posting your open jobs on your website, on Craigslist and on other job hunting sites. And make it easy for people to apply, ask for their resume, have them call you or email you. And his last portion shows the importance of training. Our 2016 Benchmark Report shows that training is not only important for keeping employees on, but it is also incredibly important for business growth.

Where do you see the green industry in five years? What trends are you paying attention to and what impact will those trends have on a business?
"Where do I see the green industry in five years? The industry as a whole is becoming more sophisticated. The customers are more educated and the providers are becoming more educated. This will require us to be more process and data driven. However, there will always be an opportunity to lever up on the personal relationships that we develop by being active with our customers, employees, and communities. We are still a service business, people are important."
The industry IS becoming more sophisticated. We live in an era of information. Businesses are able to track every activity and are able to glean data that can make them a more well oiled machine. Likewise, customers are able to learn enough about a company's services and quality to make a buying decision without even interacting with the business itself.
However, people are still the center of any service business. The way we create relationships might have changed, however the way we shape those relationships is fairly old fashioned.


What's the single most important thing you would like to share with your audience today?
"Focus on the customer. Our brand vision at U.S. Lawns is 100% Client Retention."
What a great point! This should serve as advice to brand new green industry businesses and a refresher to veteran businesses, too. Moving towards 100% client retention might seem impossible, but why not set that as a goal? If you do the right things consistently and really focus on your customers, why couldn't you move close to that perfect retention rate?
How hard is it to go from a one person company part time to having one or two employees? You're going to think this is funny but I have been doing this for almost 20 years as a legit part time business, but my body at 50 has reached a breaking point and now I need to adjust the way I do business going forward.
"The question I have for you is "do you still have energy and passion for the business?" If you do, and you are willing to modify your behavior, then you can adapt your business from a "craftsman" style to a true business format. How hard is it? Easy if you are willing to delegate to others. We help people like you daily."
Passion is key to owning and operating a business. If you love the work, odds are you will find a way to be successful. However, when physical demands start weighing on your body, and most green industry work is highly taxing. Even if you love the work, there comes a time where you might not be able to do it anymore. While it might not be as exciting to you, if you still love the work and want to continue growing your business, delegation is key. If you can build a strong team around you, you're still involved in the business and are vital to its success.


In your opinion what are the advantages and disadvantages to commercial and residential services?
"Residential Advantages:
1) Easy to pick up customers
2) Ideal for a one or two man operation

Residential Disadvantages:
1) Takes a high number of customers to create a fair revenue.
2) You're dealing with a non-professional customers that are spending their own money.

Commercial Advantages:
1) Dealing with professional customers that are spending a budget, not their own cash.
2) Lesser number of customers required to deliver significant revenue.

Commercial Disadvantages:
1) Customers expect uniformed trained crews and a professional appearance.
2) Customers expect accurate pricing and professional business practices including, risk management (insurance) and safety program."
Hutcheson very effectively answers this question with the advantages and disadvantages of going after both residential and commercial accounts. It really depends on what kind of operation you plan on running. Are you ok with sticking to a one or two man operation or do you want to go after larger commercial accounts? Can you handle the demands that come with servicing larger accounts?


I am in need of more efficient equipment and have a lot of work but not enough cash to purchase outright. What are your thoughts on financing equipment?
"Equipment is an operating expense to your business. Since cash is king when running a business, consider financing or leasing your equipment as long as the term is no longer than the useful life of the equipment."
Great advice, but take this with a grain of salt. Financing can be a great way to operate, as long as it is done responsibly. You can get yourself in some big trouble financing outside of your means. It might act as a band-aid for a little while, but what happens if you can't afford payments and interest? You wind up being even worse off than before!

What is the greatest challenge Lawn Care companies face today?
"If there is a limiting factor in this business it's your ability to build and manage a team. It starts with recruiting the right employee and continues with transferring your Company's DNA (vision, values, knowledge, culture) to that person. Then you must activate and empower them to carry out the mission."

Again, Hutcheson is portraying the importance of people in an organization. Continuing to develop your employees after you hire them is of utmost importance to a green industry business. You're only as strong as your weakest link and if you have a revolving door issue where you keep cycling through employees, you are going to struggle to create a successful business.