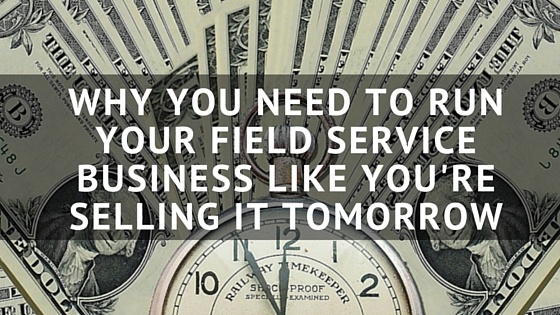 There is a concept in some circles of business owners that says that you should run your business like you're going to sell it tomorrow. The idea behind the concept is that if you run it like you want to get as much profit out of it as possible when you sell it, you actually do run your business like you should. You're smarter with your budgeting, better with spending, you take better control of your accounts and the customer information you've been compiling over the years. Essentially, you're buttoning up the things that need to be buttoned up!
As a field service company, you may have built up the number customers that you have over the course of many years. Maybe you are ready to sell. But even if you aren't, even if you're just starting out, or you know that you'll be a business owner forever, here are 4 reasons why you should run your business like you're going to sell it tomorrow.
Smarter Business Decisions
When you're getting ready to sell a business, you have to think strategically about why someone would want to purchase your business. Is it the amount of customers and accounts that you've gained over the years that would be appealing to a buyer? Do you service quite a few commercial accounts? You start thinking about what makes your business unique, and once you start nailing down what your unique selling point really is, you can use that to your advantage.
When you make strategic moves to grow your business, like hiring another field technician or purchase another truck to handle a new route, you're making your business more marketable not only to a potential buyer, but to more customers as well.
Finances are in order
When you're preparing to sell a business, you need to ensure that you've tightened up on all of your financials. You make sure all of your financial statements make sense, that obligations are squared away before handing over the torch.
As a field service business, you might have outstanding invoices that have yet to be paid. Or you might even be financing equipment or a work vehicle. All of these items will need to be in order before exiting your business. And making sure your finanaces are squared away can act as the bedrock for future success, even if you aren't planning on selling off your business any time soon.
Systems and policies
To make the transition as smooth as possible for employees during the process of a sale, businesses review their systems and policies. This forces you to start thinking about what makes your business tick and whether or not it can be carried on once you exit the business.
Documenting your systems and policies is incredibly important for any successful business, however, it doesn't always happen that way. Field service business will typically have a "busy season" and during that insane period of time, it is tough to take a step back and work ON your business and not IN it. However, there needs to be documented and repeatable processes set that can continue the success of your business.
Can actually sell if needed!
And even if you aren't planning on selling your business, you never know! Things happen. Some folks might choose to change their career direction over time or they might be nearing retirement and wanting an early exit from the working world (doesn't that sound nice?). If you've been making smarter business decisions, have your finances in order and have been working your systems and policies, you do have that option.
---
Want to make your business even more marketable? Download your free copy of Local SEO for Green Industry Businesses today and learn how to make your website sell for you!